University of Tsukuba Art Space serves as a place to introduce art work created at the university. Works created by international and domestic artists are also exhibited.
*Photography is prohibited in this area.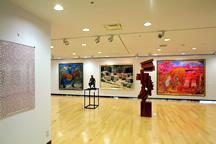 Open: Monday-Friday, 9:00-17:00 (except national holidays, year-end and New Year holidays)
Inquiries: Office of University Hall
(TEL: +81.29.853.7959)
Access: Take the "Tsukuba Daigaku Junkan (University of Tsukuba Campus Circular)" bus (clockwise/counter-clockwise) at Tsukuba Center Bus Stop No. 6 and get off at Daigaku Kaikan Mae


Event Information: Please refer to "University Hall Events" for information on any events organized at the Universities art space.
The University of Tsukuba Gallery and Art Space, which had been temporarily closed to prevent the spread of the new coronavirus, will reopen for tours by appointment only from Monday, April 3, 2023.
Please make reservations as follows:
- Capacity of visitors: 10 persons/tour
- Tour duration: 30 minutes or less per tour
- Start time:
Morning (1) 9:00 am, (2) 9:40 am, (3) 10:20 am, (4) 11:00 am, (5) 11:40 am, 5 times in all
Afternoon (6) 13:30, (7) 14:15, (8) 15:00, (9) 15:45, (10) 16:30, 5 times in all
- Reservation Method: Please call or e-mail us with your desired date and time (1) to (10) above.

Phone: 029-853-7959
9:00-17:00 (except 12:15-13:15)
E-mail: somu-daigakukaikan#@#un.tsukuba.ac.jp
* Please replace "#@#" with "@".

Thank you for your understanding and cooperation in the following matters when visiting the venue.

- Only visitors with reservations will be admitted to the venue.
- Please take your temperature and disinfect your hands with an antiseptic solution at the time of your visit.
- Visitors who are not feeling well or have a fever at the time of your visit will not be allowed to enter the venue.
- Please keep your physical distance from other visitors and refrain from loud conversations when visiting the exhibition.