Class System and Support System Organized by Faculty Members, Student Groups Authorized by the University
Organizations consisting of staff and faculty members of the university have been established to support students' life. These organizations are established at three levels; class, school and college, and university level, to provide guidance on campus life and hear students' opinions and requests.
Class System
A class is a fundamental organization whose constituent members are students of this university. A class is not a unit to participate in first year seminars, foreign languages, physical educations, or information processing, but rather a guidance unit for career options, learning and living. Every class has an instructor who discusses matters of mutual interest such as education activity and student life, in addition to counseling students.
Support System Organized by Faculty Members
The aim of this support system is to improve students' campus life and provide various services for them.
Class level: Support system by faculty members by a class
School and college level: Gakurui/Senmongakugun Gakusei Iinkai
Campus level: Gakusei Seikatsu Shien Shitsu [Office of Student Walfare]
Students closely interact with faculty members to address various issues on their campus life. Opinions and requests proposed by the students are submitted to the university president or university vice presidents through this system.
Support by Faculty Members
This support system consists of faculty members who are in charge of students by a class. The faculty members participate in the Gakusei Tanto Kyoin Kaigi [Meeting for faculty members who are responsible for students] and provide guidance based on the decision made at the meeting.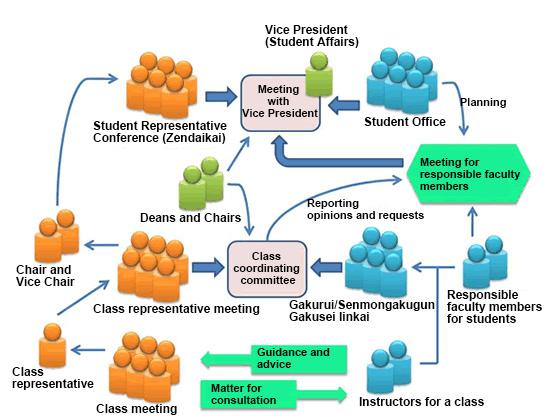 School and college representative meeting (Zendaikai)
School and college representative meeting (Zendaikai) is the upper level of student organization authorized by the university and serves as an umbrella group. All authorized student groups fall under Zendaikai. Its subcommittees work for management, curriculum, internal activities, welfare, extracurricular activities, and public relations. They conduct questionnaires and public hearings to hear students' opinions and claims. Collected students' opinions and claims are brought forward to the university vice presidents at the discussion meeting.