Overview
Our mission is to provide primary education that matches our students mental and physical development. At the same time, we cooperate with research related to children's education and, following the plans of the University of Tsukuba, provide opportunity for university students to observe and participate in education a training.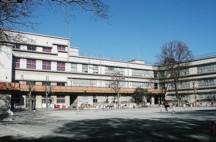 Activities and features
Instructional system
Our system is unique in that different teachers present different subjects. Students have the opportunity to interact with a large number of teachers and can receive highly specialized instruction in their subjects.
Research
We conduct research in theory and practice in primary education and offer the results to improve primary education in Japan by sharing the results with public elementary school educators.
Activities as a training center for teachers
Our school is utilized as a training center for teachers nationwide and we dispatch instructors to provide guidance throughout the country.
International education cooperation
We implement international education projects in cooperation with JICA (Japan International Cooperation Agency) and APEC (Asia-Pacific Economic Cooperation). For this reason, many educators from abroad visit our school.