Overview
Our school is the only school for students with physical disabilities as an attached school in the national university. We provide high quality education to elementary, junior high, and high school students who have disabilities. The students can receive education that suits their abilities and individualities. As a school affiliated with the University of Tsukuba, we have a role to cooperate the university's education and research activities. We conduct research on theoretical and practical education. In addition, we cooperate with other special needs education schools, in conducting collaborative researches. We try to make a social contribution in many ways, by providing a lecture to renew teacher's license, accepting trainee teachers, providing nursing care experience and training for incumbent teaching staff.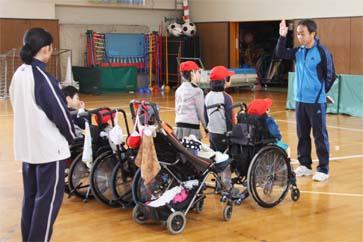 Activities and features
Research Section
We aim to conduct effective education to students with physical disabilities, especially for those who are behind in their schoolwork. We sum up our findings about the teaching content and methods, and transmit the information to around the country through public lecture, workshop for students and their family members, and publications.
Support Section
We are taking a lead to create and implement a new system for special needs education. With the mission to share our achievement with society, we conduct educational counseling and support educational activities in cooperation with nearby and related organizations.
International interaction with foreign countries
We implement educational exchanges with a school in Korea. We have concluded an exchange agreement with the Samyook Rehabilitation School since February 3, 2010. We aim to contribute to development of education for the physically challenged students in the both countries.