Strategic Partnership Agreement signed with Khon Kaen University and the University of Health Sciences
On December 21, the University of Tsukuba signed a strategic partnership agreement with Khon Kaen University, Thailand and the University of Health Sciences, Lao People's Democratic Republic. The signing ceremony, which was held online, was attended by President NAGATA Kyosuke, Vice President for Education and Academic Services Maitree Inprasitha of Khon Kaen University, and Dr. Bounthome Samountry, Interim President of the University of Health Sciences.

This agreement was reached after the University of Tsukuba was selected as a recipient of the JICA Grassroots Technical Cooperation Project for the "Project to Support Emergency Medical Services to Save Lives from Traffic Accidents in Laos" which is spearheaded by Dr. Takaaki Suzuki, Deputy Director of the International Medical Center of the University of Tsukuba Hospital (who is also in charge of the Emergency Medical Center). This project aims to further develop multilateral cooperation in various fields of education and research, including development and emergency medical services for CLMV, leveraging the geographical advantage of Khon Kaen, Thailand. After the signing ceremony, there was an opportunity for presentations and exchange of views, focusing on emergency lifesaving in this global pandemic.

Representatives from JICA offices in Thailand, Laos, as well as the Tsukuba International Center also joined the event. On behalf of JICA, Deputy Director Yuasa of the JICA Thailand Office, expressed his expectations for the future development of the activities with the three universities. He also introduced the lifesaving emergency training program (third-country training) for CLMV that is scheduled to be developed in the future.

It is hoped that this agreement will lead to further development of cooperation with the partner universities and related organizations, as well as to the development of CLMV.

Note: CLMV stands for Cambodia, Laos, Myanmar, and Vietnam.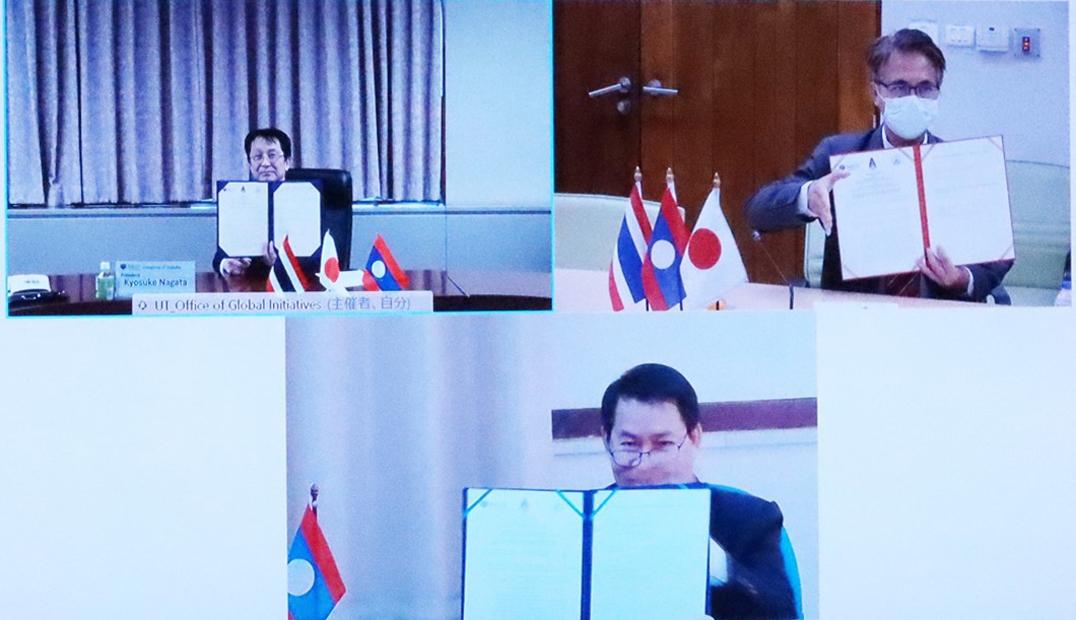 Upper Left; President NAGATA, University of Tsukuba, Upper Right; Vice President Maitree, Education and Academic Services of Khon Kaen University, Lower; Dr. Bounthome, Interim President of the University of Health Sciences