Completion Ceremony for the Intensive Japanese Course for Monbukagakusho Scholarship Students for the Class of April 2021
The Center for Education of Global Communication (CEGLOC) held the opening ceremony for the Intensive Japanese Course for the Japanese Government (Monbukagakusho) Scholarship Students who entered the University of Tsukuba in April 2021 online with the participation of related faculty members, on July 29.
At the completion ceremony, Professor ONO Masaki of the Faculty of Humanities and Social Sciences (Director of the Foreign Language Education Division, CEGLOC) made a congratulatory speech.
In April 2021, three international students have learned online to get basic Japanese language skills to support their trouble-free academic life in Japan, under harsh conditions of the travel restrictions to Japan and a time difference. They are expected to become more familiar with the Japanese language and culture and advance their own research.
The students who entered the Intensive Japanese Course starting from April 2021 are from the following nations:
U.S.A, Zambia, Vietnam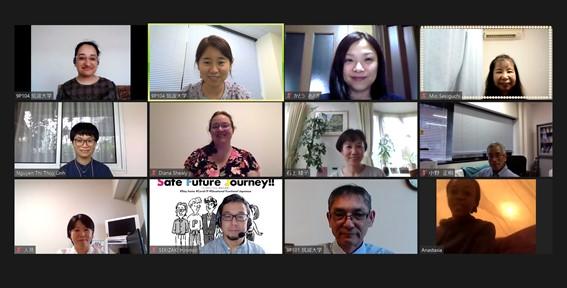 Group photo after the completion ceremony