2021 FY Tsukuba Trans-Pacific Program Online Exchange
With the joint efforts of our Latin American partner universities (El Colegio de México, University of Los Andes, Pontifical Catholic University of Peru, National University of San Marcos, University of Chile, University of São Paulo), we organized the 2021 TTPP Online Exchange meeting, from September 1st to 3rd, 2021. This event was under the Tsukuba Trans-Pacific Program (TTPP) (https://ssc.sec.tsukuba.ac.jp/ssc-top/ies-top/go-abroad-top/go-abroad-system/go-abroad-partnership/ttpp), which was previously part of the Inter-University Exchange Project "Trans-Pacific Human Capital Development Program". The 36 participating students selected by open recruitment not only deepened cross-cultural exchange, but also discussed SDGs and global issues in English, and exchanged opinions.
This event lasted for 3 consecutive days, one and a half hours per day. All registered participants submitted a pre-event assignment. It consisted of understanding the SDGs, naming some issues important to the students themselves, and linking them to the SDGs.
On the first day, we asked each university to make a short presentation to introduce the history and characteristics of their university. Then, the Executive Officer Chair of the Trans-Pacific Program, Professor Mari Minowa followed with a brief introduction of the SDGs. The first day of the event ended with a group work. The purpose of this activity was to present their assignment results and exchange opinions.
On the second day of the event, we started with a cultural activity on the topic: "What makes your country unique?". The students presented particularities of their countries, such as food, festivals, music, etc. The rest of the day consisted of group debates to choose a topic related to the SDGs and exchange opinions on the differences/similarities between countries, the origin of the problems and possible solutions.
The last day ended with a 5-minute presentation of each group, in which the students explained what they have discussed during the three-day event and the conclusions they have reached. We had the honor of having Ms. Maria Claudia Velez, Second Secretary of Foreign Affairs of the Colombian Embassy in Japan, and Professor Caroline Benton, Vice President and Executive Director for Global Affairs of the University of Tsukuba, as observers and commentators for the presentations. From the planning of the event, the selection of students, and, finally, the realization of the event, all of this was possible thanks to the efforts and collaboration of all participating universities' academic and administrative staff. We appreciate all contributors for their continued support, and we hope that this is only the first of many joint events.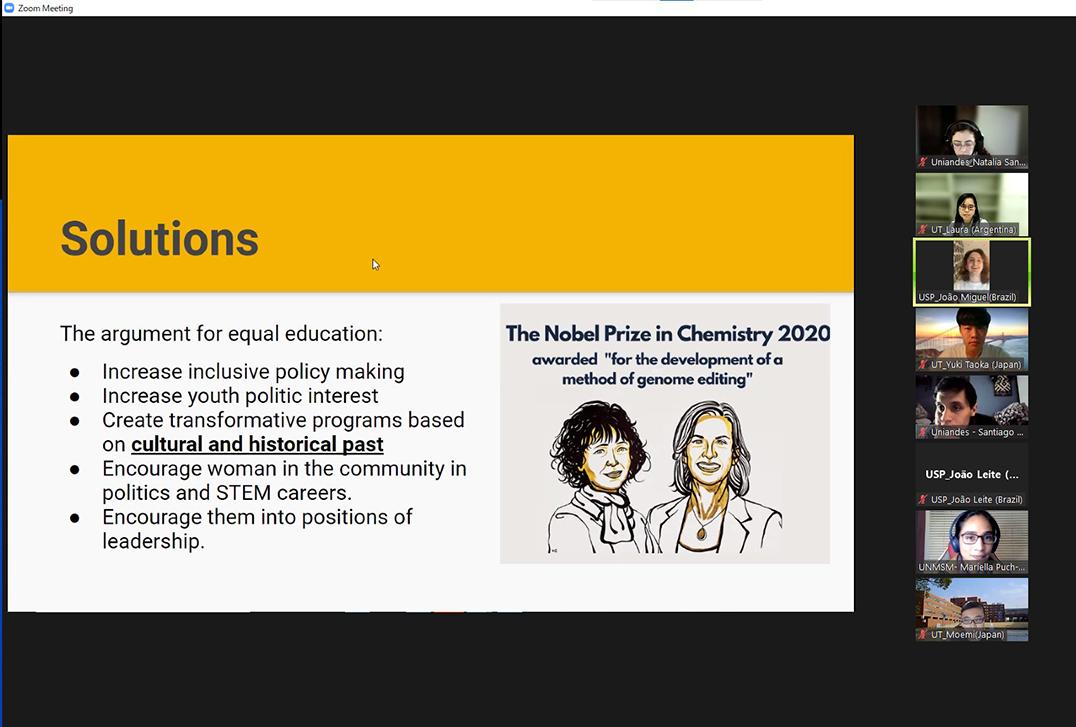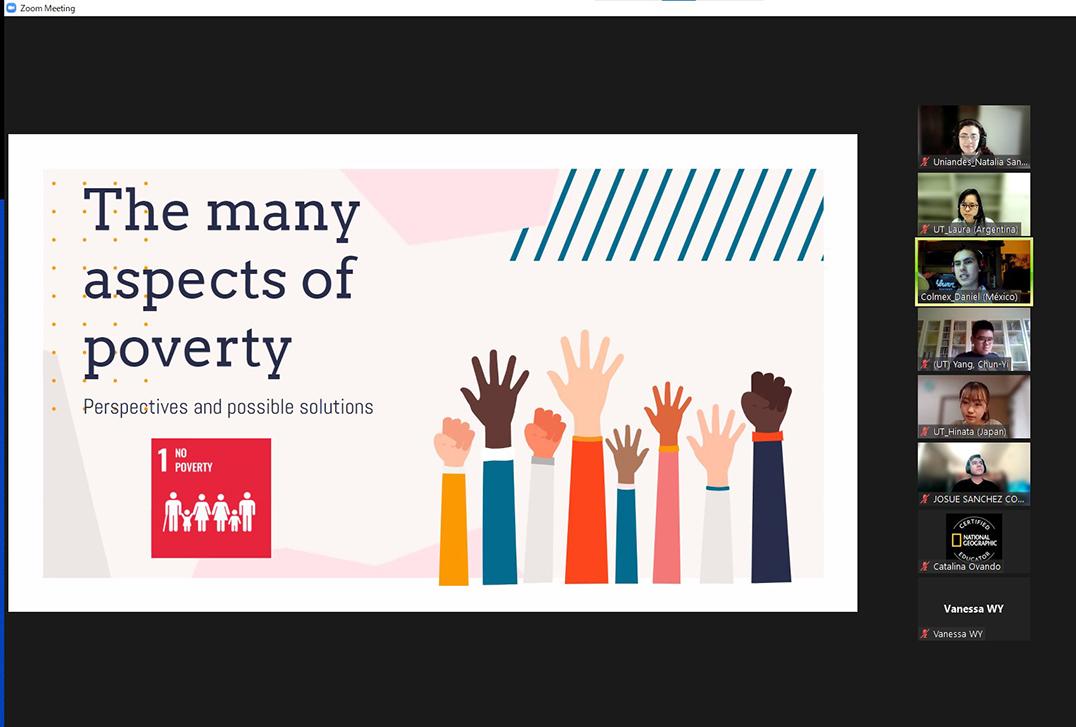 Group presentations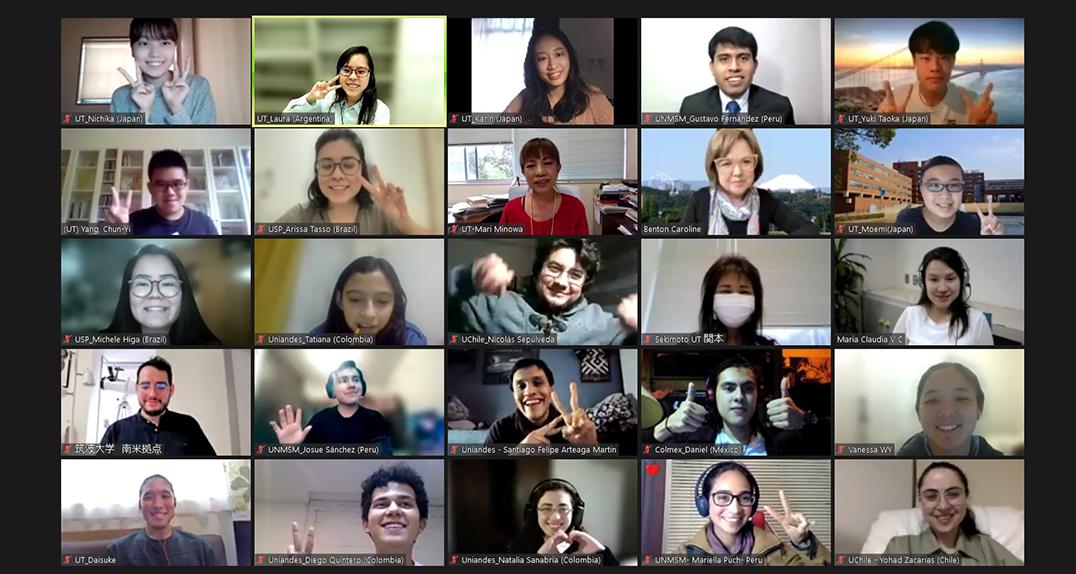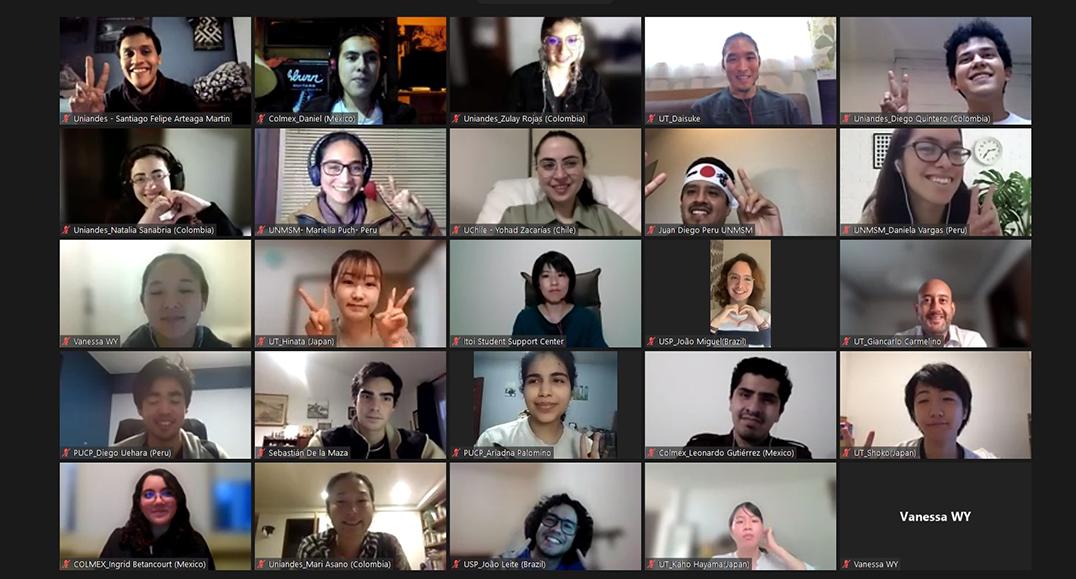 Group photo