#073 Crime Data Analysis Helps Keep Cities Safe
Associate Professor AMEMIYA Mamoru, Faculty of Engineering, Information and Systems

At first glance crime may seem to be a haphazard phenomenon, but analysis of crime occurrence data shows that there are clear trends. Effective countermeasures can be implemented if we know the times and places in which crimes such as theft and purse snatching are the most likely to occur. The aim of Professor Amemiya's research is to create safe and peaceful communities through crime prevention based on scientific analysis of crime data.
Statistically, over 70% of the crimes which take place in Japan are theft, and it is often thought that the scenes for these crimes are selected by happenstance. But crime data analysis and questioning of arrested culprits show clear trends which make crimes more likely, such as house structure and the positioning of houses in relation to roads, the use of the surrounding land, and the type of residents. It is possible that many of these crimes could be prevented if these trends were analyzed and appropriate crime prevention measures put in place. It is for this reason that Prof. Amemiya has collected geospatial crime data--when, where, why and what kind of crimes are most likely to happen--and created a visual representation of the data in map form. This allows crime prevention, which traditionally relied on intuition and experience, to be developed into an efficient and evidence-based undertaking.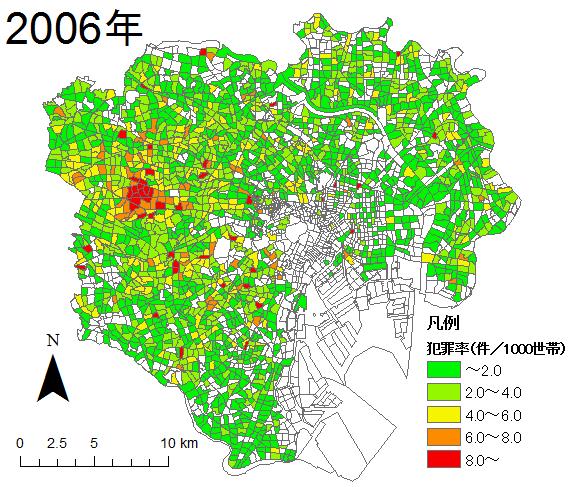 A mapping of crime rates
Crime investigations in Japan are very advanced in terms of DNA identification and chemical analysis of substances such as toxins and explosives, but analysis of crime as a phenomenon which takes place in a particular space, as well as research into crime prevention, have yet to take center stage. One reason for this is that the enormous amount of crime data accumulated by the police was confidential and could therefore not be utilized effectively. However, in recent years, an initiative under which police and local authority data can be shared with universities according to certain rules and regulations has been fast-tracked. Prof. Amemiya has implemented a number of research projects in conjunction with several district police forces and is involved in the analysis of temporal and spatial trends of crime occurrence, the verification of the effectiveness of CCTV camera deployment, and the proposal of crime prevention measures.
Data analysis identifies likely crime scenes to a certain extent, but even if such places are identified, any measures taken, such as the deployment of CCTV cameras and police patrols, cannot be considered to be an ongoing policy as they depend on external intervention. Crime prevention-oriented urban planning is based on the principle that safety must be maintained by the residents themselves, and communities and neighborhoods must be planned with this in mind. It is very typical of Japanese communities that neighborhood associations and PTAs voluntarily supervise children on their way to and from school. The ideal is to create an environment which, while utilizing this volunteer spirit, turns this undertaking into a natural part of the life of the community and of "looking out for one another," without becoming too much of a burden or a responsibility. In Japan, crime can be prevented without special regulations and equipment if people are on the lookout. For example, keeping an eye out when people are tending to roadside greenery or jogging would be an effective crime prevention activity.
In addition to his data analysis work in conjunction with the police, Prof. Amemiya is active in the campaign for crime prevention-oriented urban planning. He organizes workshops and goes on walks around neighborhoods together with local residents, during which they discuss who can do what, and when. Everybody wants a safe and peaceful living environment. However, this is not the sole value; it is but one element required in a community or living space, and improved crime prevention can sometimes clash with other community needs. Concrete actions taken in light of data analysis can be different in different regions. The key to crime prevention is in local residents taking an active role in deciding what kind of community they want to build, how much work they can undertake, and what expense they can afford, rather than leaving everything to local authorities and police.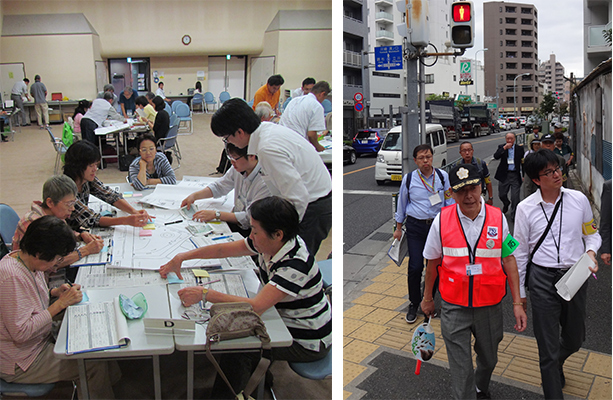 Prof. Amemiya organizes workshops to promote crime prevention-oriented urban planning, and goes on walks around neighborhoods together with local residents and discusses these issues with them.
Tsukuba Science City is a new town established in the 1970s. It was designed as a relaxed, expansive city, full of greenery, in line with the best urban planning practices of the period. However, rates of crimes such as threats and extortion taking place on pedestrian walkways and in parks, the distinguishing features of the town, grew alarmingly in the late 1990s, making residents very nervous. Prof. Amemiya, who at the time was a student, questioned these problems faced by Tsukuba, which was supposedly a planned city. This is what led him to specialize in criminology. In recent years, his research themes have widened to encompass issues such as policy on vacant houses and land and the place of the disabled and elderly in society, while still concentrating on the key concepts of safety and peace of mind. Prof. Amemiya intends to continue contributing to safe and peaceful urban planning under the policy and planning sciences ethos of "using engineering methodologies to solve social problems".
Article by Science Communicator at the Office of Public Relations