#076 The Science of Baseball
Associate Professor KAWAMURA Takashi, Faculty of Health and Sport Sciences

Baseball involves throwing, hitting, running, and picking up and throwing a ball. When the basic actions are written out this way, the elements of baseball seem quite simple. Yet we have discovered that baseball games produce unexpected and inevitable drama. Baseball was once considered Japan's national sport and the personal qualities of grit and perseverance were extolled above all else. In recent years, however, a more scientific approach has been adopted, which includes the use of scientific analysis and statistical data. Prof. Kawamura conducts research that involves analyzing the movements used in baseball, and he uses the results for training and developing players.
Baseball can be quite a peaceful game. During the three hours that a game takes to play, the ball is moving for only about 20 minutes. The remaining two hours and forty minutes is spent on things like the pitcher getting ready to throw the next pitch or the teams switching between offense and defense. But if you observe the game closely, you will notice that the fielders change where they stand to be better prepared to make a defensive play, and also constantly check baserunners on every pitch. The team on offense will also use tactics that are in play below the surface of the action, such as reading the pitcher's sequence of pitches. And in so many aspects of the game the athlete's individual abilities are called into play. Baseball is often considered a perfect example of a team sport, yet individual stats play a significant role.
Baseball is also played differently from country to country. Prof. Kawamura says that Japanese baseball emphasizes defense; the focus is on giving up the fewest runs, whereas in American baseball the thinking is that if a team gives up runs they can just score more than the other team in turn. In terms of pitching, in Japan there is a preference for clean rotation on the ball. In Major League Baseball, on the other hand, accolades are saved for irregular rotation that makes the ball change course unpredictably as it reaches the batter. And in youth baseball in Japan, it is often said that the best player is the pitcher, while in Cuba, for example, every player wants to be a star with the bat, so the best kid plays shortstop and the less talented kid becomes a pitcher.
In Japanese-style baseball the pitcher is the biggest star, while the catcher, who is often the only one to be engaged with every player on the team, is in fact the one in charge of tactics despite the modest appearance. The defensive positions that Prof. Kawamura played when he was active were primarily catcher and outfielder. When he played for Hokkaido Sapporo Kaisei High School, which progressed in the annual summer tournament to appear at Koshien Stadium, the first time in 50 years for a public high school from Sapporo, Prof. Kawamura was the captain and lead-off batter. Playing against the very strong Tsukumi High School (from Oita), his team lost 4-1, but the team got 11 hits off iron-armed pitcher Kenjiro Kawasaki, who later went on to pitch in Japanese pro baseball for the Swallows. The secret was that the entire team studied film ahead of time and figured out the pitcher's mannerisms. Even from that early age Prof. Kawamura liked to analyze data and give advice to his peers. Partly for this reason, pro ball clubs tried to recruit him, but he chose to enroll at the University of Tsukuba to study sports science and become an instructor. Currently he manages the University of Tsukuba baseball team, performs research on coaching, and carries out biomechanics research on pitching and batting movements. Pitchers need pliancy while batters need strong muscles. Usually the two do not go together, but Prof. Kawamura judges the Fighters' player Shohei Otani to be the rarest of exceptions.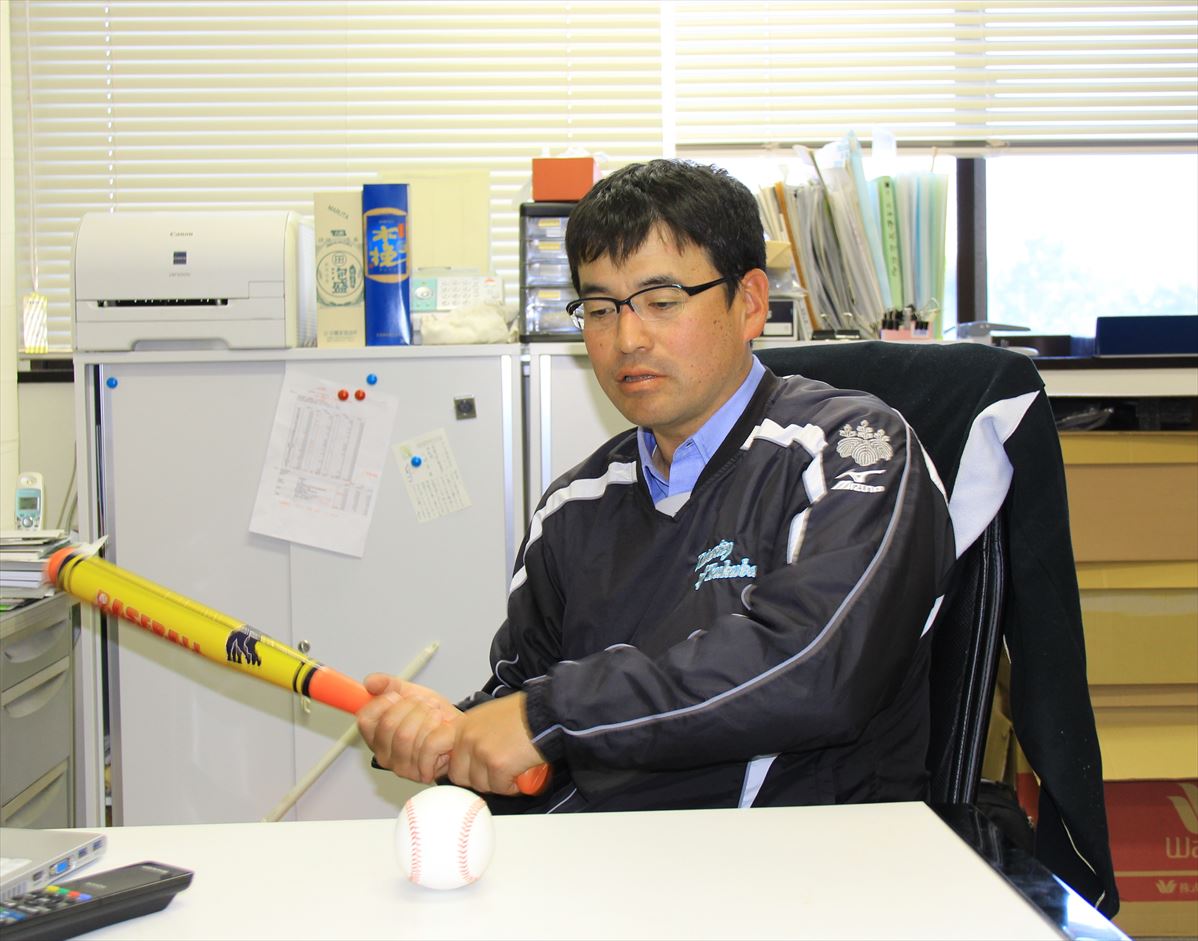 Keenly explaining batting theory
Prof. Kawamura's main research methodology involves using a high-speed camera to film a player pitching or hitting, then analyzing how they are using their body. Professional ballplayers sometimes come to Prof. Kawamura for advice. While he gives the pros advice, he also provides guidance to student athletes: how to make short-term improvements to their game, and how to make long-term improvements that will extend their longevity as players.
In the past, the coaching of baseball players was based almost entirely on the personal experience of the coach. While some techniques used by a coach were excellent, other advice could be patent nonsense. Prof. Kawamura has gathered that knowledge based on experience and backed it up with scientific principles. An increase in student players being overused, shortening their playing longevity, could lead to children staying away from baseball. And one reason why top-level players do not necessarily make good coaches is that it is not easy to put experience-based knowledge into words. To overcome this deficiency it is vital to look at body movement not subjectively, but with an objective eye. Drawn to research on this method of instruction, Prof. Kawamura's research lab includes former professional baseball players who have been admitted to the university as working individuals.
Prof. Kawamura also holds short stayover baseball clinic for boys and girls who love baseball that he calls "Scientific Baseball Training for Kids." He uses different coaching methods depending on the age of the children to teach them basic baseball techniques, along with good etiquette and proper nutrition. Baseball is a sport that requires a variety of movements. Looking at the students of the University of Tsukuba, those with baseball experience seem to do well in other sports, too. Prof. Kawamura hopes to see more children enjoy sports, using baseball as an entry point, even if they do not become baseball players.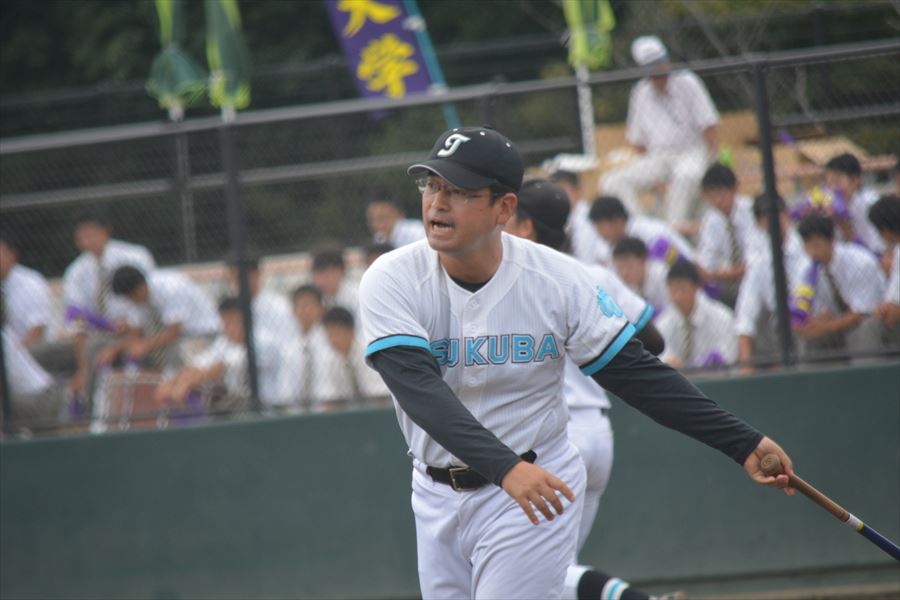 Hitting balls for fielding practice before a game
Article by Science Communicator at the Office of Public Relations