#082 Psychotherapy: Helping People "Experience the other you"
Assistant Professor TANAKA Takae, Faculty of Human Sciences

There is a popular misconception that psychotherapy and counseling are ways for people to be given answers to their issues. However, in reality they are ways of helping clients to find their own answers through dialog with the counselor. The counselor's role is that of an assistant within the discipline of clinical psychology. Simply talking does not lead to a solution; rather, putting the problem into words helps the client realize things they had not previously noticed, and the counselor's role is to help that process.
These days, public junior high schools throughout Japan have counselors on hand. The dispatching of counselors was ordered in fiscal 1995 by the old Ministry of Education, Science, Sports and Culture to provide children with psychological care as they deal with increasingly serious issues that continue to dog junior high schools. These include truancy, bullying, and suicide, as well as traumatic events such as the Great Hanshin Earthquake. The program is being expanded to include elementary schools, high schools, and universities. Such counselors must be qualified clinical psychologists, and Prof. Tanaka gained her qualification through post-graduate study at Kyoto University. After working in the student counseling facilities of Ferris University and the University of Tokyo, she took up a position as student counselor at the University Health Center in September 2016. In addition to her counseling duties, she is also involved in education and research at the Faculty of Human Sciences.
For the most part, today's university students are of the generation that had counselors at junior high school. As a result, they feel little resistance to the idea of psychotherapy and counseling, and the number of students that drop in and seek advice is relatively high. That said, however, the problems they bring are often very serious. They are at a stage where everything they have taken for granted--their "everyday"-does not apply anymore, and they find themselves paralyzed at the prospect. Prof. Tanaka says that when students find themselves in a predicament like that, the fact that they have realized they are struggling signals that they have already made the first step toward becoming a new person. "I will help the development of your mind," she says on the university's Student Counseling webpage.
"Experiencing a different you": This is how Prof. Tanaka refers to the process by which students suffering with a sense of unease or an identity crisis discover an unknown version of themselves through psychotherapy. For instance, there have been occasions when students have experienced crises of identity when glancing in a mirror and feeling that there was something not right about the person looking back at them. This meeting with the "self" in the mirror is what Prof. Tanaka calls "experiencing a different you." In clinical psychology, encountering the different you and broadening horizons leads to success in treatment. Therefore, therapy is not just about "talking it out"; clients are sometimes asked to draw pictures or arrange figures in a diorama in a technique called "sandplay therapy."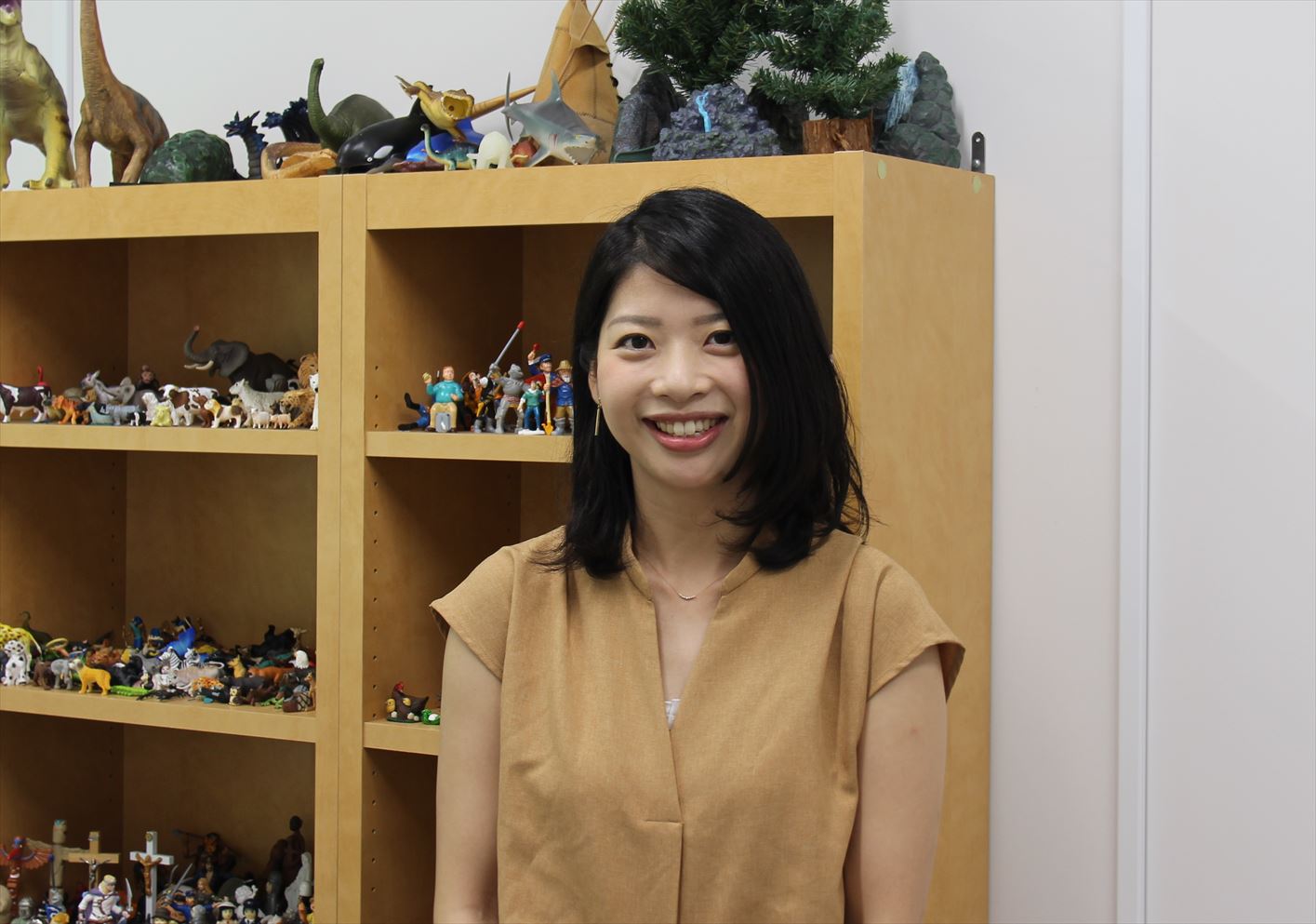 Prof. Tanaka in front of shelves full of sandplay therapy figures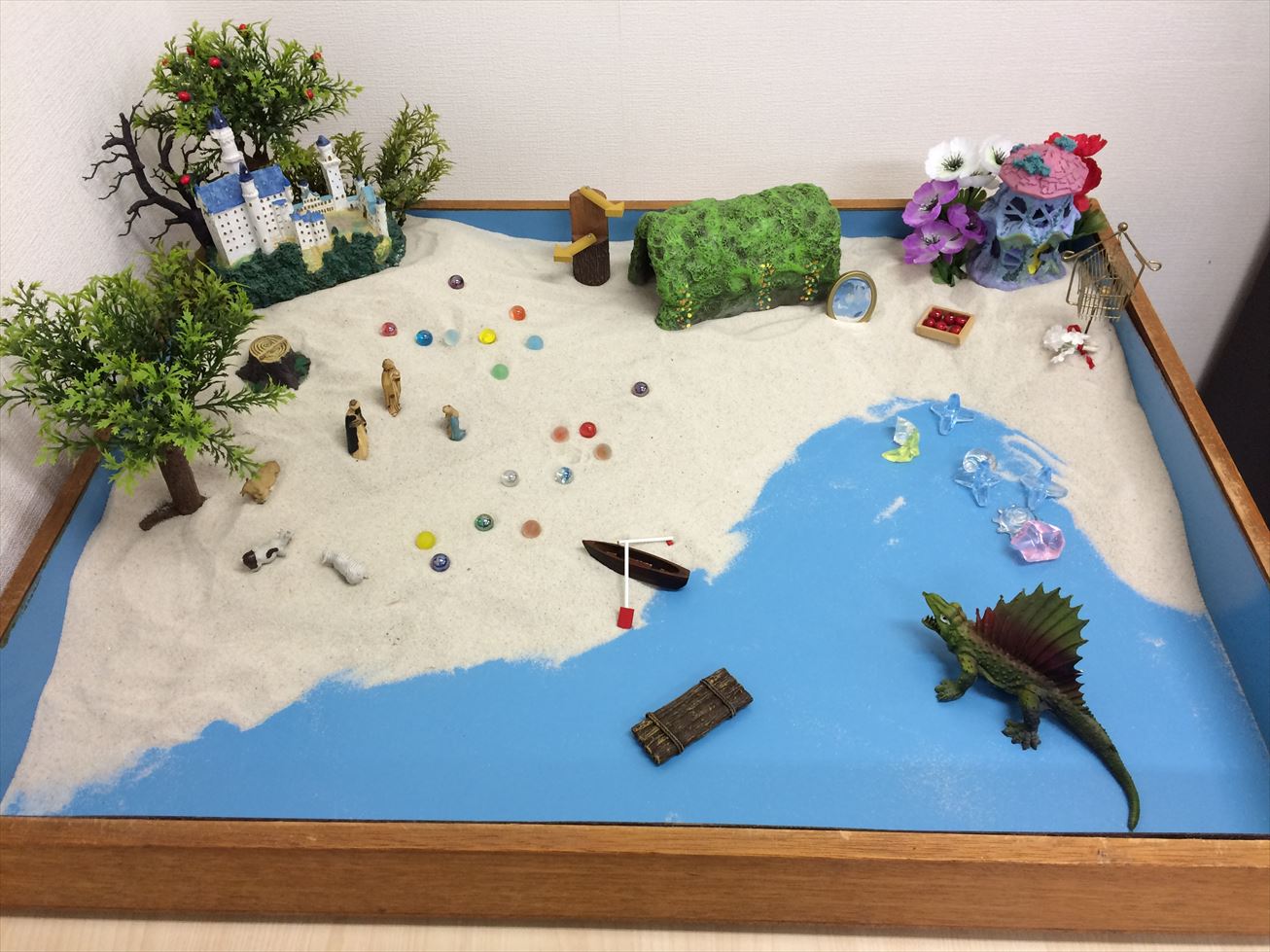 A sandplay therapy scene. Here, clients often reveal things about themselves they were not aware of.
In the past, when people had high hopes for the development of a future society, the average youth were mainly bright and proactive with occasional mood swings within a certain spectrum either side of that main disposition. Today, however, there has been an increase in the number of youngsters who do not know what they want to do with their lives, and who are, for one reason or another, at unease but cannot specify the reasons. There has been a change in individual. Prof. Tanaka says that many of her senior counselors of an older generation are perplexed with that change. Each meeting between client and counselor is a unique encounter in itself and, indeed, the accumulation of those individual cases is the driving force behind the advancement of clinical psychology.
Prof. Tanaka says she stumbled upon clinical psychology as a career option in junior high school when she read a book of case studies. Gradually, her interest in working with people as a clinical psychologist grew. Sessions cover a broad variety of topics, she says, and responding to each of them can be challenging. But there are no lies in the counselor's office. Indeed, Prof. Tanaka says she is moved by the sheer force of the emotions. When dealing with students, due to their age, cases often undergo dramatic developments in a short time, but accompanying the youngsters as they "experience the other you" makes counseling a rewarding job.
And it's not as if worries and concerns don't have their upside: Prof. Tanaka wants to convey that, for young people, working through troubles is a creative process.
Article by Science Communicator at the Office of Public Relations