#101 Now, the Best Time Ever to Begin International Contribution through Sport
Assistant Professor YAMAGUCHI Taku, Faculty of Health and Sport Sciences

Few people would associate sports with international humanitarian aid. However, taking part in sports is one of the basic human rights. A revised version of the 1978 International Charter of Physical Education, Physical Activity and Sport was adopted at the UNESCO General Assembly in 2015, and the charter states that the practice of sport is a fundamental human right. Sport is also an effective tool for bringing people together in local communities (UN GA/RES/70/1, paragraph 37). Professor Yamaguchi has been working to develop individuals who can be involved in such activities on the international stage.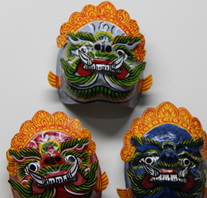 Kicking AIDS Out! is a sport initiative begun in Zambia in 2001. It aims to educate people on the issues of HIV/AIDS through sporting activity. It is an international organizations network that has spread around the world, particularly in the Global North where HIV/AIDS is a serious issue. Each country in this network has developed their own, unique efforts. In comparison to previous campaigns to prevent aids in which activities were limited to lectures and distributing protective items, this initiative has a variety of programs. For instance, one organization promotes understanding of HIV/AIDS among athletes and the public by awarding soccer teams off-the-field points according to their level of contribution to AIDS prevention activities. Such awareness-raising activities are carried out where sports are played, taking different forms according to the local culture or organization.
Prof. Yamaguchi finished his bachelor's degree in physical education and worked for an educational book publisher before starting a business as a sports coordinator. Later he worked overseas, devoting himself to NGO Hearts of Gold to support international development through sports. He spent many years working to support physical education and sport development in Cambodia. It was at this time that the educational system in Cambodia was in the process of being rebuilt following the Pol Pot regime, in which many lives were taken, and academic and administrative documents expunged. Physical education efforts were also falling behind, and the only PE class taught across the country was Khmer exercise, something similar to the radio gymnastics popular in Japan. Prof. Yamaguchi spent some 10 years supporting physical education and promoting sports in Cambodia, an effort he continued after joining the faculty at the University of Tsukuba. His meritorious service was recognized in December 2016 by the King of Cambodia with the Knight Grand Cross, the highest Royal Order of Monisaraphon, awarded to personnel and organizations for their technological inventions and discoveries, or outstanding results in the fields of science, sport, and art.
Through these ongoing activities, Prof. Yamaguchi came to view sport as a form of culture. Taking the example of Khmer exercise--the Cambodian people believe that these gymnastics were developed in their own country. As a matter of fact, they were introduced in the French colonial period. According to the UNESCO International Charter of Physical Education, Physical Activity and Sport, it is a fundamental human right to participate in traditional sports, dance, and other physical activities In this context, the pros and cons must be weighed for introducing soccer to regions where sepak takraw (a sport native to Southeast Asia) is popular, and only supporting the training of those players. Prof. Yamaguchi, who lived in Cambodia, says this conflict enabled him to take a more anthropological outlook. He is currently working as advisor to the General Directorate of Sport, Ministry of Education Youth and Sport of the Kingdom of Cambodia and National Olympic Committee of Cambodia, and he is also studying how physical education and sports from outside the country have been incorporated into local culture.
Reassessing the relationship between sport and traditional culture is not limited to looking through the lens of developmental assistance for other countries. Previously in Japan, for example, sports day at elementary schools was an important community event. Adults from the local community coached and ran little league baseball. Such Social Physical Education played an important role in bringing people together, and became an integral part of local culture in Japan. Prof. Yamaguchi feels it is necessary to take another look at such established Social PE practices and deliberately reimplement them, especially as the breakdown of local communities has come to be recognized as a social problem in Japan today.
Sport has the power to unite people, communities, regions, and the world. To take advantage of that power, individuals are needed with the skills to plan and manage sports. The Joint Master's program in International Development and Peace through Sport--a collaborative effort between the University of Tsukuba, the National Institute of Fitness and Sports in Kanoya, and the Japan Sport Council--is being created as an educational program to train individuals who can contribute to international development and peace. Prof. Yamaguchi, who teaches the history of physical education and anthropology of sports, has a range of students in his seminars--not only from the School of Health and Physical Education, but also students from the College of International Studies who major in cultural and social development. One student went on to play in a professional soccer league in Africa while carrying out research in international development studies, and another student worked at a refugee camp, and then applied the experience to a specialist profession. Sport for Tomorrow is an international-contribution-through-sport initiative launched for the 2020 Tokyo Olympic and Paralympic Games. Prof. Yamaguchi is looking ahead, and considers this educational program as paramount to continuously contribute to such efforts and ensure they will not end with the closing of the games.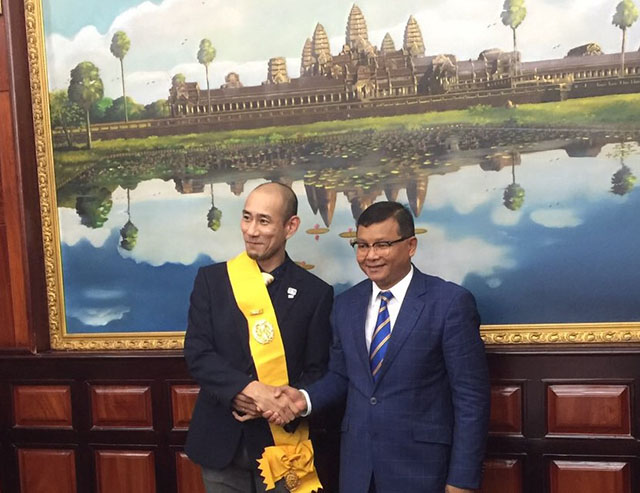 Prof. Yamaguchi receiving the Knight Grand Cross Royal Order of Monisaraphon from Cambodia's Minister of Education Youth and Sport
An elementary school class in Cambodia on physical education that promotes understanding of people with disabilities. Students of the College of Health and Physical Education at the University of Tsukuba participate as part of JICA's short-term volunteer secondment. Photo shows students explaining the role in this practice.
Article by Science Communicator at the Office of Public Relations