#106 Caring for Mothers and Babies
Associate Professor OBATA Mana, Faculty of Medicine

Even in the ever-advancing world of medicine, techniques for birth itself have not changed very much. What is important is to use these techniques in an appropriate and safe manner. Of course, there have been innovations in areas such as prenatal diagnosis. Pregnancy and delivery are associated with various risks such as rapid changes in condition of the pregnant mother or her unborn baby. In addition to working to ensure safe childbirth in her daily practice as an obstetrician/gynecologist (OB/GYN), Dr. Obata is also focusing her efforts on building hospital systems that can handle a variety of cases.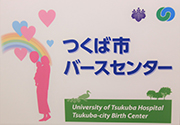 Although the number of young families in the city of Tsukuba has been increasing, the number of obstetric clinics has been decreasing, and there are currently only three medical facilities that can deliver babies. University of Tsukuba Hospital is one of those facilities, and it handles about 1,000 births per year. You might think that university hospitals only handle births with serious problems, but they actually handle a lot of highly routine births as well. As an OB/GYN, Dr. Obata strives, as much as possible, to ensure minimal risk in birth as she educates and cares for pregnant mothers.
In general, it is best to give birth with as few medical interventions as possible. That is why midwives, rather than physicians, are mainly charged with supporting pregnant women found to be low-risk through early testing. This also allows pregnant mothers to carefully choose what kind of birth style they would like, and prepare to care for their child. The Birth Center was established to meet this need. Though located in the same university hospital, the Birth Center supports pregnant mothers through different systems.
Unexpected things can also happen during pregnancy and labor. In some cases, the pregnant mother already has a chronic illness, has developed an illness during pregnancy, or the fetus has abnormalities. Depending on symptoms, coordination with other departments such as internal medicine, pediatrics, and surgery may be necessary. In this regard, receiving care at a university hospital gives both pregnant mothers and obstetricians peace of mind. However, when dealing with pregnant mothers, doctors must be careful about what drugs they prescribe. Sharing information between the Department of Obstetrics and Gynecology and other departments is therefore critical.
When we talk about pregnancy and birth, we tend to focus on the great advances that have been made in areas such as infertility treatment and prenatal diagnosis. Actually, basic techniques for childbirth such as cesarean section (C-section), vacuum extraction, and use of forceps have not changed very much, and continue to be used today. For that reason, it is important to consider how to use these existing techniques for pregnant mothers in an appropriate and safe manner. One must also be thoroughly prepared to handle difficult labors and unexpected circumstances. These situations, as well as care during pregnancy, test the abilities of doctors and other medical staff. As she closely evaluates the condition of each individual pregnant patient, wherever possible, Dr. Obata strives for a "normal" vaginal delivery. Even when the baby is sick or in the breech position (facing bottom-first), there are techniques that still enable a vaginal delivery. Casually selecting a C-section not only burdens a pregnant mother with the increased physical stress of surgery, but also makes it more likely that her next birth will also be a C-section even if there are no particular problems with that pregnancy. When individual births are successful, it is important for the entire medical profession to pass on the techniques that are working.
Both of Dr. Obata's grandfathers were surgeons, so she thought doctors were cool when she was young. She was not dead set on becoming a doctor, but after debating whether to pursue a career in biology or medicine, she chose medicine with the idea of getting some kind of credential. After she became an OB/GYN, she obtained a doctoral degree through research on infectious diseases in a bacteriology lab with the intent of reducing preterm deliveries. The body is a host to many bacteria. Some bacterial infections that are not problematic normally can become a problem during pregnancy. Dr. Obata's research was aimed at establishing diagnostic methods for infections that are difficult to detect because they do not produce symptoms. Now, her principal focus is on research aimed at building support systems at hospitals and public health centers that help women with risky pregnancies get successfully through labor and care for their children. Setting up the Birth Center and building a system for sharing information between doctors are also parts of this project.
Dr. Obata believes that women are well suited to the job of a doctor. This is particularly true for obstetrics and gynecology. Because the discipline covers both obstetrics and gynecology, doctors not only handle births but also see a wide variety of cases in their practice, which can range from treating disorders in puberty to disorders during menopause. This makes it an easy medical discipline to continue with even if the doctor's personal environment changes. Of course, this does not mean that it is not a suitable field for men. Like other professions, there should be a balance of men and women. The most fulfilling part of being an OB/GYN is that you can say "congratulations" every day. There is not really any other job like it. Even when a baby is born with a disease or some other health problem, you still say "congratulations" for the birth. The best encouragement for Dr. Obata is to see off mothers and their babies as they leave the hospital together.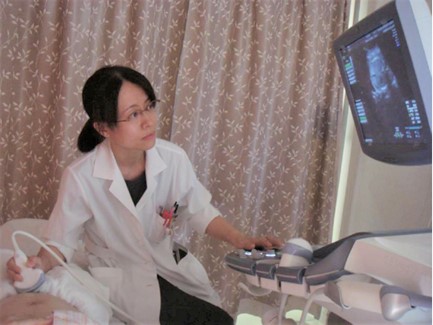 Dr. Obata uses ultrasound equipment while examining a pregnant mother (photo from about 10 years ago)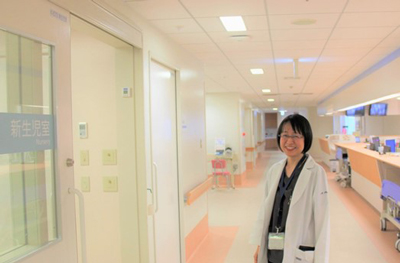 Being an OB/GYN means that you can say "congratulations" several times a day
Article by Science Communicator at the Office of Public Relations