Dr. Jigoro Kano was born in December, 1860. After graduating from Tokyo Imperial University, Dr. Kano founded Kodokan Judo. He served for 23 years as principal of the Higher Normal School and the Tokyo Higher Normal School, which were forerunners of the University of Tsukuba. During those years, he devoted himself to educational reform, the promotion of physical education and sports, and the development of the Olympic Movement. The year 2010 marks the 150th anniversary of Dr. Jikoro Kano's birth. Dr. Kano's philosophy and achievements as an educator will give us guidelines for university education and the role of Japanese in the world.

Biography (In Japanese Language)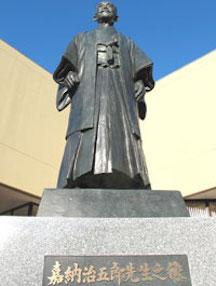 Dr. Jigoro Kano's Achievements
Education through Judo
Dr. Kano developed traditional jujitsu into judo and founded Kodokan judo in 1882 for students to acquire a scientific approach, a sense of justice, fairness, and humility, and the ability to make full use of the knowledge acquired during the judo training. He advocated the philosophy "Maximum Efficiency with Minimum Effort, Mutual Welfare and Benefit." He toured all over the world to disseminate judo and its philosophy. Now judo has spread to over 200 countries as a sport to train one's body and mind. Dr. Kano is well known as a founder of judo throughout the world.
Improvement of School Education
Dr. Kano achieved innovative reform, including the establishment of a free campus environment instead of military-style discipline, the introduction of extracurricular activities, and the admittance of Chinese students during his term as the principal of the Higher Normal High School. He extended the duration of teacher training to be the same as that of universities and laid the groundwork for promoting higher normal schools to the level of universities to foster educators with profound knowledge. As the result of this, modern Japanese secondary and teachers' education have improved. The Tokyo University of Education and the University of Tsukuba have produced a large number of capable educators and researchers. Dr. Kano also devoted himself to the establishment of girls' high schools in prefectures and to the introduction of Roman letter education.
Admittance of International Students
Dr. Kano was the first educator in Japan who invited students from overseas. Initially these students learned at a private school called "Kobun Gakuin" and then at the Tokyo Higher Normal School from 1899. Dr. Kano's philosophy as principal was "Maximum Efficiency with Minimum Effort" and "Mutual Welfare and Benefit." Many Chinese students learned at the Higher Normal School. The alumni of that school became faculty members of Peking University or Beijing Normal University or worked at other Chinese academic or educational institutions. Approximately 8,000 Chinese students studied at Kobun Gakuin and the Tokyo Higher Normal School, and among those were Lu Xun, Tian Han, and Mao Zedong. Based on Dr. Kano's philosophy "Mutual Welfare and Benefit", Japan will accept some 300,000 international students by 2010.
Prominent Chinese figures who studied at Kobun Gakuin or Tokyo Higher Normal School (In Japanese Language)
Promotion of Olympic Movement
Dr. Kano became the first Asian member of the International Olympic Committee and devoted himself to the Olympic Movement in Asia and Japan. In 1912, Dr. Kano took two runners, Yahiko Mishima (Tokyo Imperial University) and Shizo Kanakuri (Higher Normal College) to the Fifth Olympiad in Stockholm as head of the Japanese team. Since then, Japan has promoted sports and cultural exchanges with countries around the world. Dr. Kano emphasized the integration of the spirit of martial arts and the Olympic creed. Through this, he tried to enhance the Olympic Games as an international event. The European IOC members called Dr. Kano a "true educator of youth" and "a man of character in sports education".
Establishment of Sport and Physical Education
Dr. Kano played a key role in getting sports included in the school curriculum by establishing the Department of Physical Education at the Tokyo Higher Normal School in 1915. He also encouraged students to actively participate in extracurricular activities. In 1911, he established the Japan Sports Association for all Japanese people to practice sports such as swimming and long-distance running. These sports activities have become popular throughout Japan with the support of educators who graduated from the Tokyo Higher Normal School.