Accommodation for International Students
On-Campus Housing
Student Residence Halls have been established to offer its students excellent study environment along with the opportunity to experience autonomous civic life. For the other housing options, accommodation for short-term students (Short Stay House) has been installed in April, 2016, and shared accommodations (Global Village), which focuses on international exchange, commenced its operation on April 1, 2017.
A total of 67 residences with about 3,700 rooms are located in Ichinoya, Hirasuna, Oikoshi and Kasuga Area. For further information regarding room types, equipment and monthly rent, please refer to the guide "Student Residence Guide."
Every Standard-Single type residence has a laundry room, a communal kitchen and shower room, etc. Also, each area (excluding Kasuga area) has a Community Center that has administrative offices (In Kasuga Area, it is located in Bldg.1, 1st floor). In addition, Hirasuna Community Center has bath house, a barber shop and an electric goods store, Ichinoya Community Center has convenience stores, a barber shop and an electric goods store and Oikoshi Community Center has an electric goods store. In Global Village, each unit has a kitchen and a shower room that are shared only with other residents of the unit. Further, Global Village has its own laundry room and community space "Daiwa Lease Community Station."
The university makes sure the rooms are available to undergraduate freshmen on a priority basis. When the number of new applicants exceeds the available number of rooms, students coming to Tsukuba from different district/state are given priority over those local students who can possibly commute to the university from nearby areas.
Application schedule for following academic year will be posted on web bulletin board.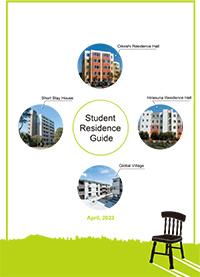 Off-Campus Housing
There are a number of apartments and condominiums near the campus. When you look for an apartment, you must go to a real estate agency and tell them what you are looking for in a place to live.
The monthly rent varies depending on the location, the age of the building, and whether the room comes with certain equipment and furniture. The average monthly rent for a 6 tatami (the size of one tatami is on average between 176cm-191cm x 88cm-95.5cm) room with a kitchen, a bath, and a toilet in the city of Tsukuba, would be between 30,000 and 50,000 yen. In Japan, the rent is paid prior to the beginning of the month, so you must be careful not to fall behind with the payment.
When you sign the lease, you must pay a deposit (Shikikin) and key money (Reikin), usually equivalent to 1-2 months of the rent, and a commission.
Shikikin:
This is a rental deposit paid to the landlord when you first rent an apartment. On principle you will receive the deposit back when you move out the apartment; however, usually this is the amount that covers the repair costs.
Reikin:
This is key money, meaning "gratuity fee", in Japanese and is non-refundable.
Commission fee:
This is handling charge you pay the real estate agency, when you choose to rent an apartment through an agency.
When you rent an apartment, you must have a joint guarantor, take out fire insurance and pay fees related to them. Ask the real estate agency for any details on the matter.
Joint Guarantor:
In Japan, if you wish to move into a privately owned apartment, you must have a joint guarantor. Usually a family member will be the guarantor. However, if you cannot find one, you can pay a guarantee charge to a guarantee company that has partnership with the real estate agency.
Fire Insurance:
This covers household property damages by fire, lightning, water, leak, etc. You are required to arrange fire insurance with "personal liability insurance" which covers damages having occurred as a result of your negligence.
To International Students
When you apply to a guarantee company, you must have emergency contact information within Japan. If you do not have one, please contact the office of the Tsukuba Futureship Association for International Student Support (Division of Student Exchange).
【Moving Out】
You must inform the real estate agency of the date you plan to leave, 1 to 2 months prior to vacating. If you inform the agency too close to the date, you might need to pay an extra rent. Also, your room should be in the condition as it was when you moved in. Make sure you understand the conditions in your contract regarding restoration and termination of contract.
<Contact Information>

【General Inquiries about Residence Halls】
○Division of Student Welfare (Welfare and Housing) (Student Plaza 3F)
TEL: 029-853-2266, 2265

【Student Residence Administration Office】
○Student Residence Hall except Short Stay House and Global Village
Hirasuna Administration Office (Hirasuna Community Center 2F)
TEL : 029-858-0131

○Short Stay House
Short Stay House Administration Office (Ichinoya #35-1F)
TEL : 029-856-7220

○Global Village
Global Village Administration Office (Daiwa Lease Community Station 1F)
TEL : 029-896-5281

【Emergency contact for International Students】
○Division of Student Exchange
TEL : 029-853-6062