The University of Tsukuba Electricity Monitoring System (TEMS) has been developed to know the situation of electricity usage on Tsukuba Campus. It aims to reveal the real-time electricity usage on Campus and help save electricity? since we need to cut down on it for the summer time that the government has limited the use of it. By utilizing this system? each office of the University of Tsukuba has determined to execute the electricity saving measures and see the results of them.
1 Outline of TEMS
TEMS is the newly developed database system monitoring the electricity usage of 89 areas on Tsukuba Campus every hour? and reveals its monitoring results on the web.
The data of power usage can be seen from both monitored areas and the Map information.
It also shows the monitoring data for the past three years? the data compared with that of previous year? and the prediction of the peak time of electricity usage.
Moreover? it is possible to check the monitoring data on the Map Information System (Google Map) by pointing the monitoring area.
TEMS can be viewed on the website and the digital signage (bulletin board system) of University of Tsukuba Campus.
2 Purpose and Outline of the Electricity Saving Week
The Electricity Saving Week is observed from June 13 (Monday) to 24 (Friday).
Its purpose is to know the realizable reduction rate and the result of the electricity usage reduction rate on whole campus? by implementing ideas of each office of University of Tsukuba.
Based on the electricity saving measures? the efforts on saving electricity will be implemented in the monitoring areas during this period. The efforts will be conducted under consideration not to hinder classes? and the data results will be monitored by TEMS.
We will make the best use of this data to save electricity during the summer time from July that the government has limited the usage of it.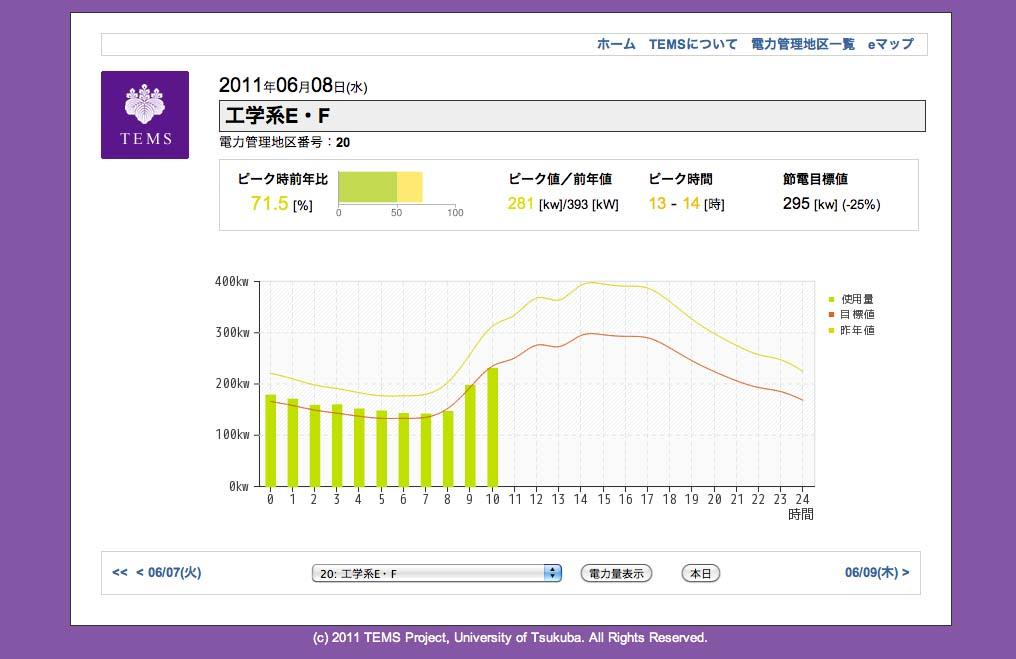 Graphical representation on monitoring area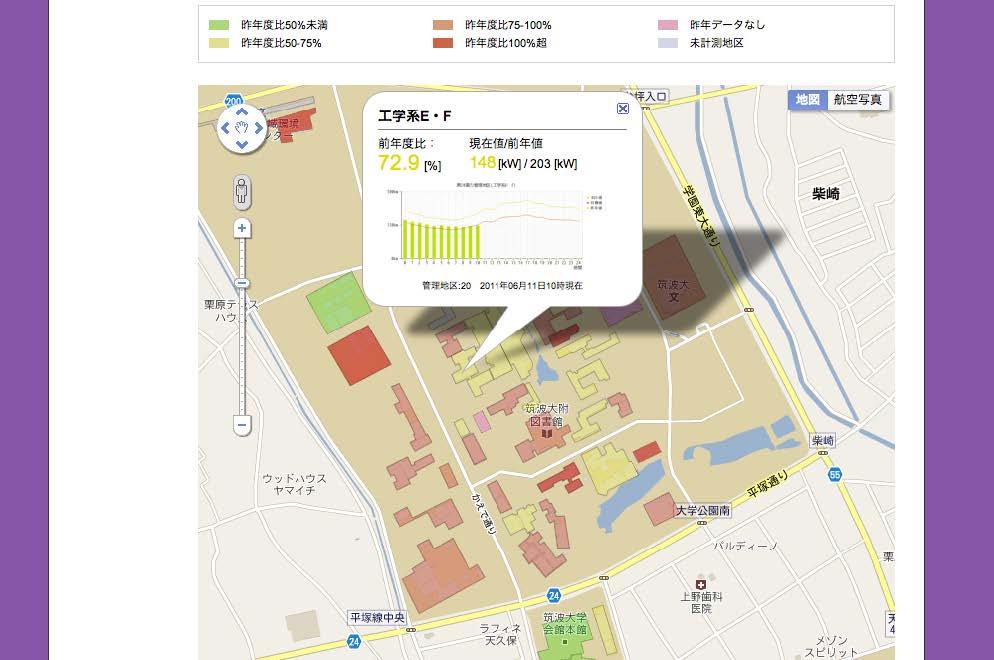 Google Map information