#070 Get Over Your Own Hurdles! Athletic Training to Change Oneself
Associate Professor TANIGAWA Satoru, Faculty of Health and Sport Sciences

It may be true that few track and field athletes start out with a desire to specialize in hurdling. Hurdling is a complex event that combines the actions of running and jumping, which requires a suitable physique. Prof. Tanigawa competed in two Olympics for Japan in the 110-meter hurdles. Today he draws upon the experience of having fought through injury and setbacks to go as far as he could go, and now he analyzes form, performs research on training methods, and trains young athletes.

Hurdle sprinting events in track and field are time-competitive races that involve jumping over ten hurdles. Hurdling requires special technique. The runner must not only run fast but also brake and bend his or her body, jumping in a complex motion. That motion then needs to be repeated smoothly over and over. The height of the hurdles and the interval between them are fixed, so a suitable physique and physical strength are also required. For men, in terms of the body's center of gravity and muscle-tendon balance, you will find that world-class hurdlers are about 190-centimeters tall, and have substantially more built physiques than most sprinters.

Sports-minded since he was a boy, Prof. Tanigawa first wanted to become a professional baseball player. But then he discovered track, which relied solely on a person's own abilities, and in junior high school he chose to take up track and field, as well as swimming. At first he thought about doing the 100-meter sprint, which everybody else wanted to compete in, but a congenital dislocation of the hip caused him slight discomfort, so he knew he was better suited to doing the hurdles. But Prof. Tanigawa never won any local tournaments early on and he was admittedly not very enthusiastic about hurdling all through high school. He went on to university as a regular student, and decided to join the university track and field club for one year, during which time he struggled to catch up with the other athletes in terms of training. Then he got the idea to take a close look at the student-athletes who were there on a sports recommendation and see what was different about the successful ones. He persisted and that observation bore fruit and in his third year when he suddenly blossomed. He also studied the form of top athletes at the time such as Carl Lewis, and adopted the special training regimes of others for himself. It was only a matter of time before he started achieving his own success in track competitions.

However, as he got deeper into training he started to feel there were many things he still needed to learn at the theoretical level regarding the body's mechanisms, training methods, and more. Also, because of his congenital hip disorder, he wanted to know his body better and take a proper approach to it. So he turned down a job offer he had received upon graduating and instead went on to graduate studies at the University of Tsukuba. At graduate school, he studied and trained assiduously, practicing with sprinting and jumping coaches, and reading training guides from around the world. In his second year he traveled abroad and trained under various coaches in the United States and Germany, joining competitions and working to perfect his skills.
To the athlete, learning by watching others is connected to the study of oneself. Even if one eats the same things as others and trains in the same way, the results will be different. Knowing oneself well is the first step toward becoming able to resolve issues on one's own. Prof. Tanigawa's coaching style is to take the high school athlete who has always accepted instructions without questioning and has practiced according to the schedule set, and get that athlete to become more self-aware and start thinking for him or herself to become capable of solving problems on his or her own. Prof. Tanigawa checks the data that his athletes and trainers send from their smartphones on the athletes' physical condition and training, and he observes them closely as they come to practices and warm up. He communicates with each person individually, and that is part of how he coaches the entire track team. Such guidance not only helps each person to become more competitive; it makes them more resourceful, enabling them to solve problems on their own and take a proactive approach to many other things, not simply toward competing on the track.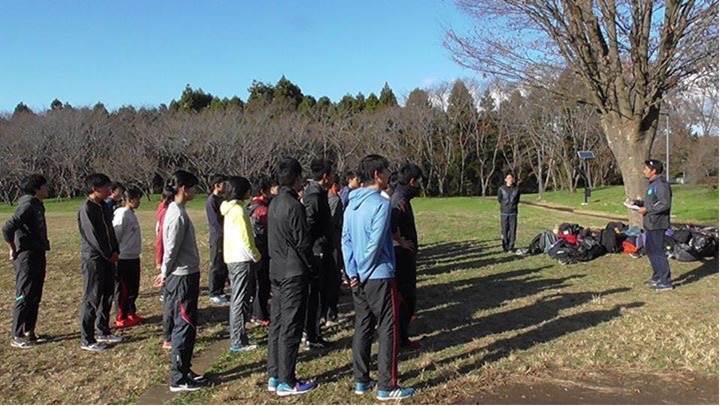 As director of the track and field program, Prof. Tanigawa develops practice methods and puts together a team taking into account various factors that include each athlete's characteristics.
Prof. Tanigawa was Japan's leading hurdler, competing in the Sydney Olympics and Athens Olympics in 2000 and 2004. The Japanese record he set in Athens has yet to be broken. Although an athlete of his caliber has many career opportunities upon retiring, Prof. Tanigawa chose the path of researcher and coach. His disappointment at not reaching the final round in the Olympics and his struggles with injury gave him an understanding and strong desire that he applies to research in various disciplines and to the examination of training and coaching methods to raise young athletes. Coaching is multidisciplinary, involving training theory, psychology, brain science, medicine, and many other fields, so his pursuits are a perfect fit with the University of Tsukuba, itself a mecca for cross-disciplinary research.

The basics of running and jumping needed for hurdling events are common to many other sports, so even athletes from outside the university and outside Japan come to Tsukuba to seek out Prof. Tanigawa's guidance, whether baseball players or competitors in rugby, soccer, tennis, or other sports. Under his watchful eye, before they know it they have improved themselves, becoming more competitive and better-rounded human beings who have learned to take control of their lives, and they leave seeking new worlds. Not only in sports but in life, people need greater self-awareness to reach new levels. New realizations emerge when one's environment changes, leading to new steps and personal growth. Prof. Tanigawa has a feeling that such a time is again approaching for himself.

Cross-disciplinary research is needed to analyze movements, cognitive action and training records for individual events, and to develop suitable training. The University of Tsukuba is thus an ideal environment, says Prof. Tanigawa.
Article by Science Communicator at the Office of Public Relations