#074 Pursuing Her Own Path in Manga at Her Own Pace
Assistant Professor YAMAMOTO Miki, Faculty of Art and Design

Manga can today be considered a global medium that speaks a universal language. Many people learn the Japanese language through manga and anime, and many also consider these examples of Japanese culture to be what makes Japan "cool." Manga is often discussed in terms of culture, but is rarely analyzed from the perspective of design. Professor Yamamoto expanded her field of activity from art to manga, and while producing her own work also does research on picture books as a form of storytelling.
In elementary school, Prof. Yamamoto's parents forbade her from read manga. She therefore went to bookstores to stand and read or to her friends' houses where she could read manga undisturbed. And with a slightly rebellious streak toward her parents she even started drawing them herself. In high school she took up oil painting. Around that time, Prof. Yamamoto says, she had a vague notion that she wanted to be an artist, but had never given a thought to becoming a manga artist. She entered the Faculty of Art and Design at the University of Tsukuba and took many kinds of classes, slowly becoming more aware of manga. Before she knew it she was again drawing manga. For her graduation project she produced a 234-page wordless book with black-and-white illustrations with the title Bakudan to Ribon ("A Ribbon and a Bomb"). The story depicts a junior high school girl going a bit out of control with her wavering emotions. The book won the Katsuhiko Hibino Prize of the Mitsubishi Chemical Junior Designer Award, given for design students' graduation projects. The title was changed to Bakudan ni Ribon ("Ribbon around a Bomb") and published as a silent graphic novel to much buzz. Her touch is reminiscent of the maverick manga artist Kyoko Okazaki. In fact, Prof. Yamamoto says, she adores Kyoko Okazaki.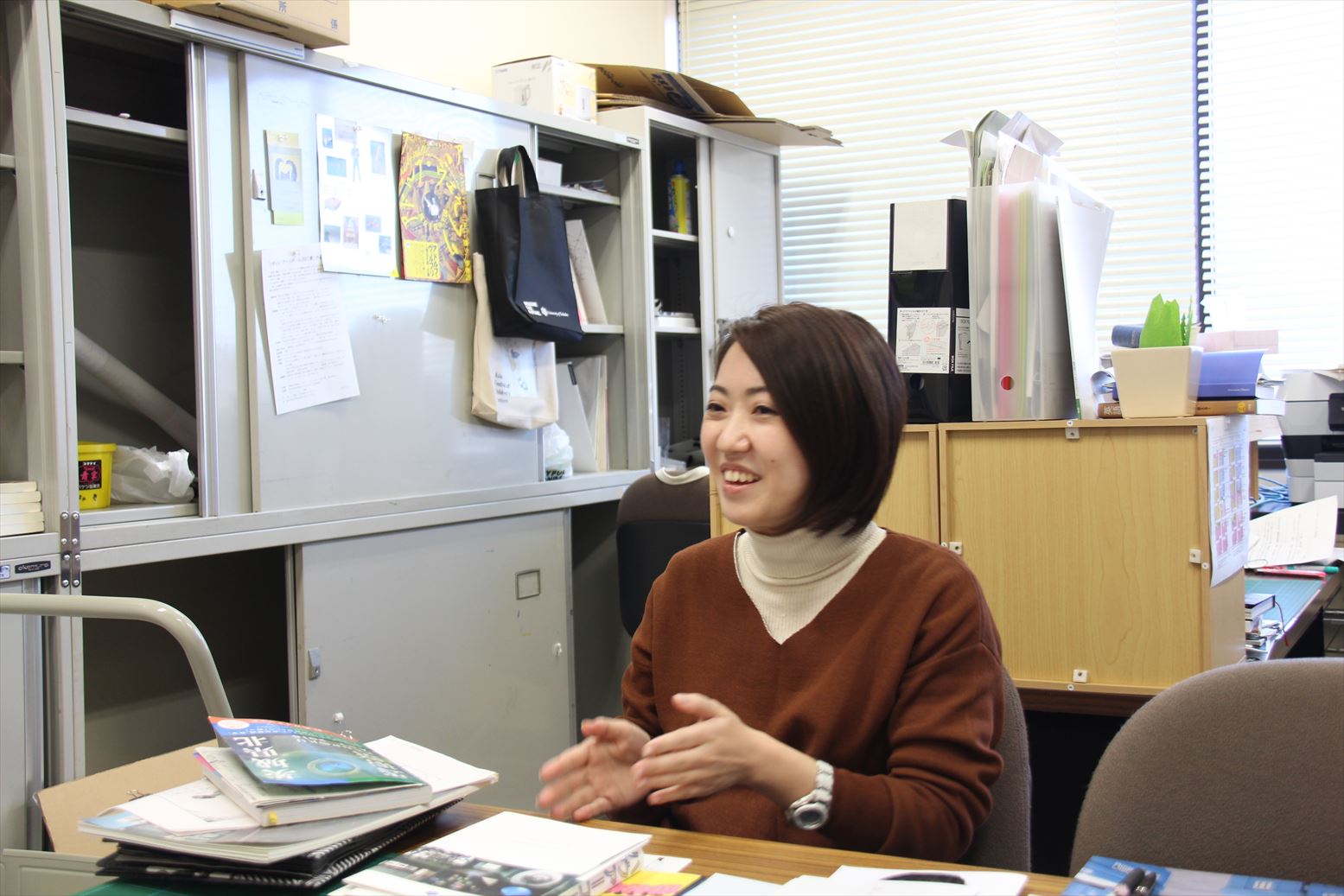 Prof. Yamamoto went on to graduate school and her story manga Sunny Sunny Ann! won the grand prize in a publisher's contest for up-and-coming artists. After being published in irregular serial form, it was later published as an independent book. The protagonist is no longer the junior high school girl of her earlier work, but suddenly all grown up. She is also a social outlaw, living in her car. The drawing style also underwent a change. Prof. Yamamoto says the motif is an attempt at drawing a woman's lifestyle in a different situation. The work received the 17th Tezuka Osamu Cultural Prize Creative Award, a major award for new artists. Her third work, How Are You?, is the story of a woman from another country married to a Japanese man whose life begins to disintegrate when her husband one day vanishes without a trace. Changing her style and drawing methods from one work to the next, and producing manga at a leisurely pace, Prof. Yamamoto's graduate research was also on her chosen theme: wordless picture books. This genre of picture book depends entirely on illustrations to tell a story without any text for explanation. It is not new, but not much research exists that analyzes such works from the perspective of artistic expression. In manga, even without words, it is possible to develop a story and create transitions visually by changing the frame size and arrangement. However, in picture books, the artist has to work within the basic framework of the blank single page or two-page spread. This constraint sets a challenge for the artist to meet. In a picture book without words, the challenge is that much tougher.
At the university, Prof. Yamamoto is also in charge of teaching a manga-drawing class. Not every student of hers wants to become a manga artist, but they all wind up producing an eight-page manga in the end. The manga styles range from the heartwarming to the serious, with everything in between. Although opinions diverge with regard to evaluating manga, Prof. Yamamoto herself subscribes to the basic premise that a good manga is one in which the method used to draw the images matches the content that the artist wishes to express. Although the genre of manga may seem simple at first glance, in fact it requires advanced skills that combine several elements—establishing the characters, story development, frame arrangement, insertion of spoken words, the touch, and more. For this reason, it is difficult to produce a polished work until one matures to the level of a university student.
Prof. Yamamoto also submits works for art exhibitions. For Kenpoku Art 2016, an international art festival in Ibaraki Prefecture, she displayed classroom scene illustrations from Bakudan ni Ribon in the classroom of a junior high school that had closed in the city of Hitachiomiya. Another work of hers for the festival was displayed in public on the sidewalk in front of Hitachitaga Station—illustrations and manga images transferred to the surface of concrete blocks. She has many more creative goals that she aims to express in manga. She wants to try her hand at producing a full-color manga as well as a manga version of a story from another source. And, although it may take some time, she wants to produce her own wordless picture book. Prof. Yamamoto has only just begun her work as a teacher and researcher, and is still getting used to all of the entailing university paperwork. Nevertheless, she has been invited to an international symposium on manga held in London and is slowly finding her rhythm in class preparation. She is not only doing creative work, but teaching and doing research as well—a busy lifestyle, but one that she seems to be handling well at her own pace.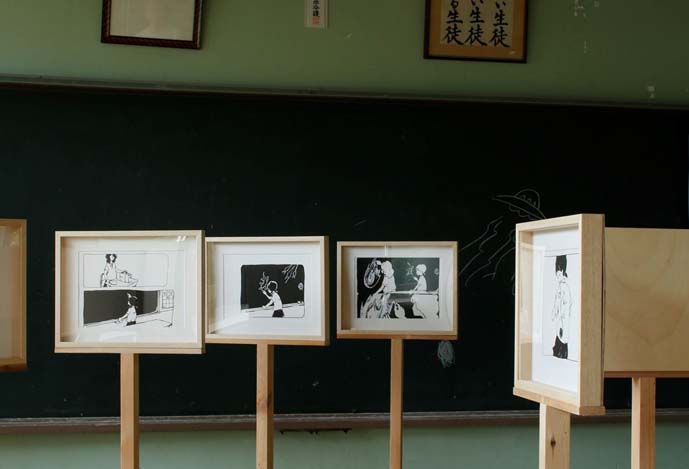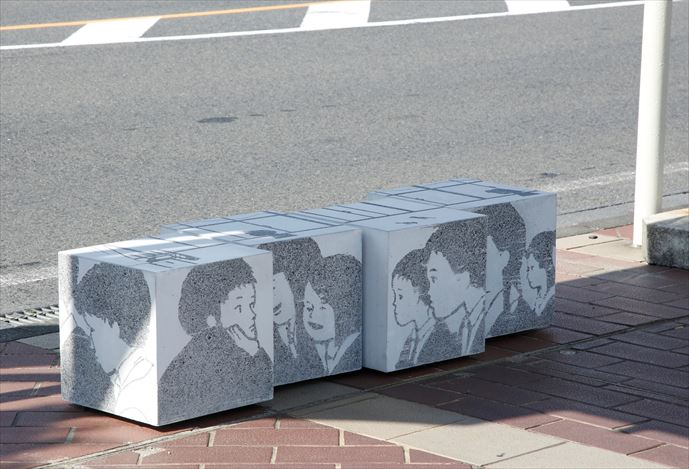 Works displayed for the Kenpoku Art 2016 international art festival (Photo by Keizo Kioku)
Article by Science Communicator at the Office of Public Relations