#102 Aiming to Stimulate a Sense of Deja Vu Upon Viewing Her Art
Assistant Professor HOSHI Mika, Faculty of Art and Design

Looking on from the outside, it is difficult to hazard a guess as to the mindset of a professional artist. How do they discover the motif they will paint? Only one thing is for sure--painting is a solitary endeavor. The University of Tsukuba offers courses not only that teach art creation, but courses that support art. As an institution that understands the hardships and joys of being a creative, the university also runs a program to support young artists.
When we visited Prof. Hoshi's office, three works of hers were standing upon easels. They each depicted a striking scene. Apparently, the canvases were among the paintings that Prof. Hoshi had displayed at her recent solo exhibition in Florence, Italy,le memorie del vento--memories of the wind. While being a lecturer, she is also a painter, and is known for painting works that feature forsaken images and dream-like scenes. Most of her motifs, she says, come from visual impressions from dreams or memories--often lonely, sorrowful scenes. Once, she held a solo exhibition titledMemento mori--Remember that you too will die. Sometimes, scenes she recalls from a book or photography book will influence her, even though the image did not arise from actual experience. Still, she feels these are deeply familiar, archetypal scenes.
Prof. Hoshi began studying painting as a child, and at the University of Tsukuba School of Art and Design she majored in Carving and Modeling, finding a solid interest in creating the human form. She also won a prize in an art contest. At the graduate level, however, she switched to Western Style Painting, explaining that painting gave her more freedom to express her view of the world. While continuing to paint in the graduate program, she studied how to use 3D computer graphics to create a preliminary drawing. Such a technique employs computer simulations to create three-dimensionality and shadows for the motif, and develop the composition. Taking the opportunity to train in Florence, she studied tempera grassa, which entails mixing egg yolk, oil and powdered pigment to create paint, a technique often used during the Renaissance. The result is a both watery yet oily medium, upon which other materials can be layered. Learning this technique expanded Prof. Hoshi's range, allowing her to choose any combination of oils, acrylics, tempera grassa, and more, to suit her needs. If oils are thickly applied, they interfere with painting details, so she does not use thick layers. These are the techniques behind the images she paints, which resemble still life photos. Recently, she has been obsessed with the use of silver leaf blackened by heating with sulfur. In comparison to the shine of Western art, oxidized silver is more oriental, creating a more Japanese ambience. .
Winning prizes for her work soon after switching to Western Style Painting gave her the confidence to be able to make a living as a painter. Even so, she went through a difficult period, shutting herself up in her studio for almost two years, just painting alone. In 2013, she became a trainee under the Japanese government's Program of Overseas Study for Upcoming Artists and went to Florence, where she spent a fruitful year. After returning to Japan, she became assistant professor at her alma mater to help plan and run the Young Artist Development Project for Creation of Next-Generation Culture, a project commissioned by the Agency for Cultural Affairs. Her activities have expanded from being only an artist to training young artists to follow in her footsteps.
Under this project, four times since fiscal 2013, universities with art programs have been invited to have their graduate students and post-grad students under the age of about 35 who are actively engaged in creating art to submit works in the areas of painting, printmaking, sculpture, and calligraphy for theFine Art/University Selection exhibition for upcoming artists' exchange and development. In total, 76 Japanese universities and 18 overseas universities have participated, and a network of universities almost covering the whole of Japan has been established.The Fine Art Universiade U-35 exhibition was held in fiscal 2017 to wrap up the series. An artist-in-residence program was set up in fiscal 2018 as an educational promotion project within the university. As part of the program, planned and run by students, four artists each are selected from inside and outside the university, and they stay there for one week to create artwork and exhibit it. The program is designed not only to foster artists but also as an opportunity to study and practice art management. Teachers and students in the art support program also participate in the planning and implementation of the project.
Although she is busy with such programs and teaching her own classes, Prof. Hoshi feels happy when she takes brush in hand and is able to paint her own works of art. She is also looking forward to holding more exhibitions outside of Japan.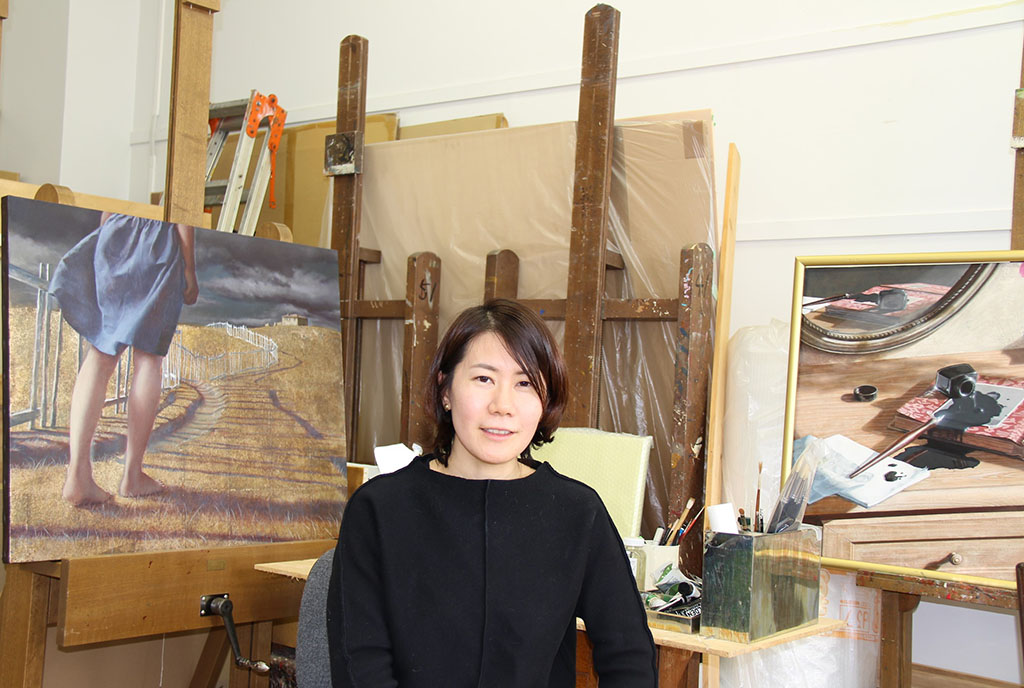 One wonders what kind of life this barefoot girl is leading as she walks toward a cabin in the distance. Or what it means that ink was spilled on a family album. Prof. Hoshi's paintings stir the imagination in many ways.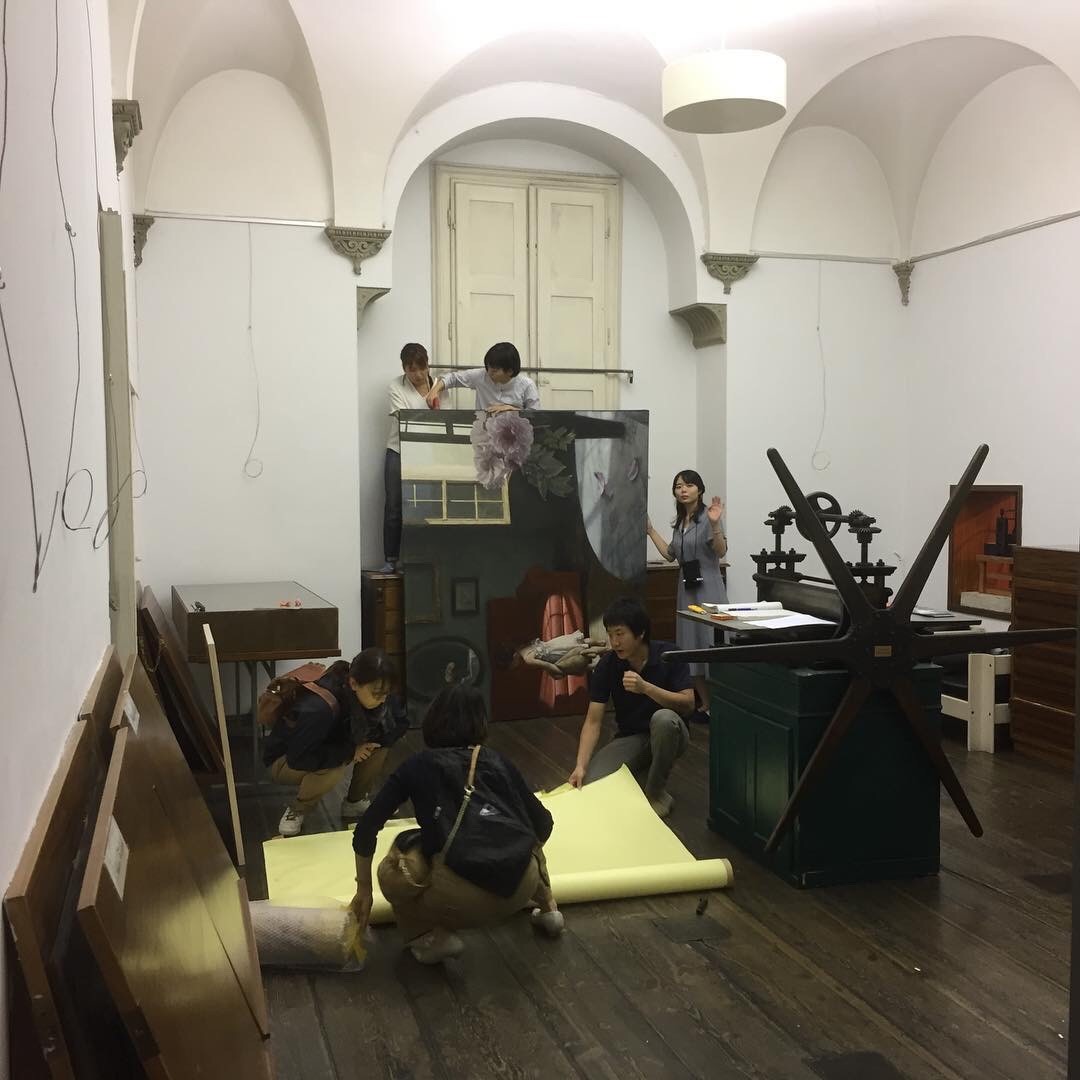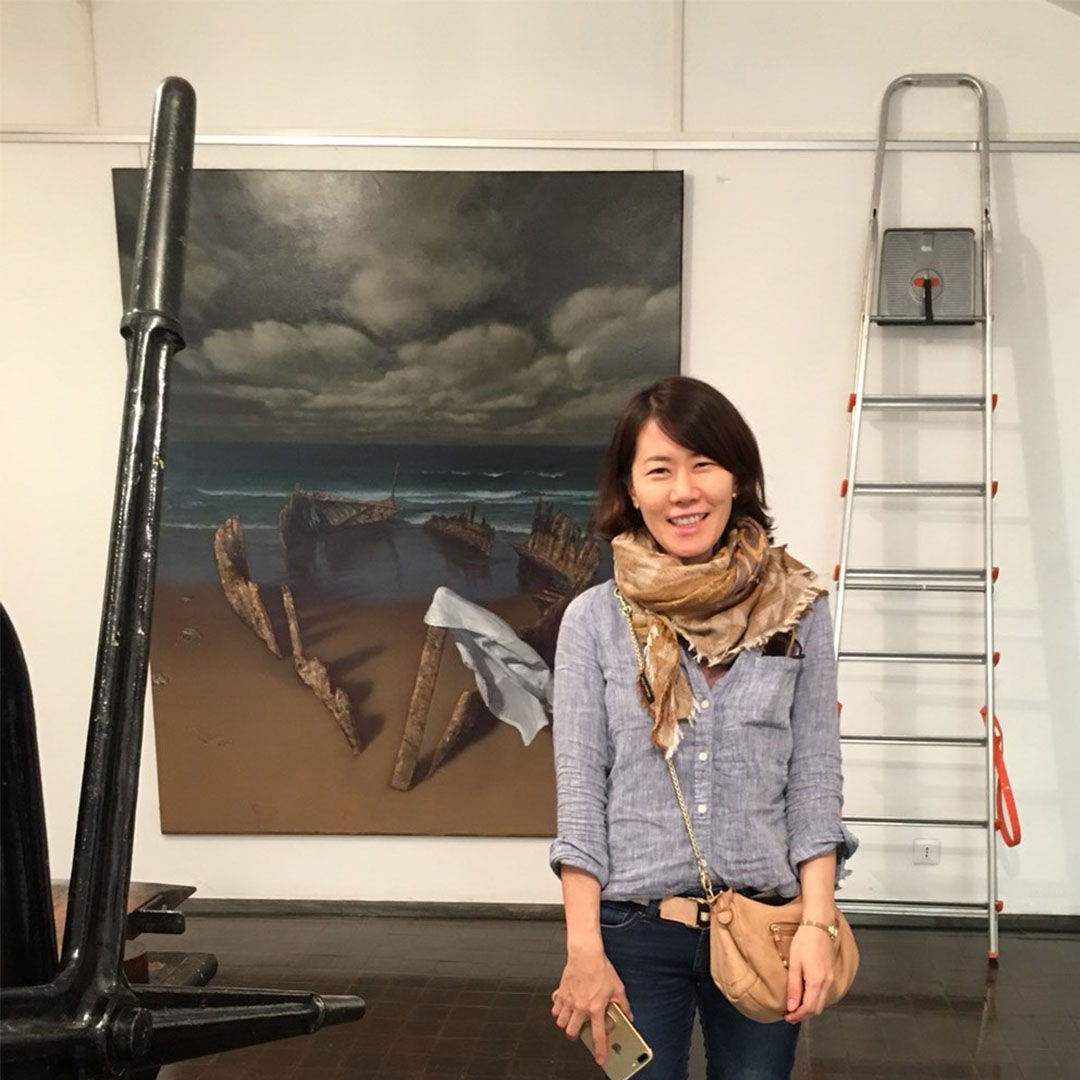 Preparing for her solo exhibition in Florence. Students accompanying her help with the setup.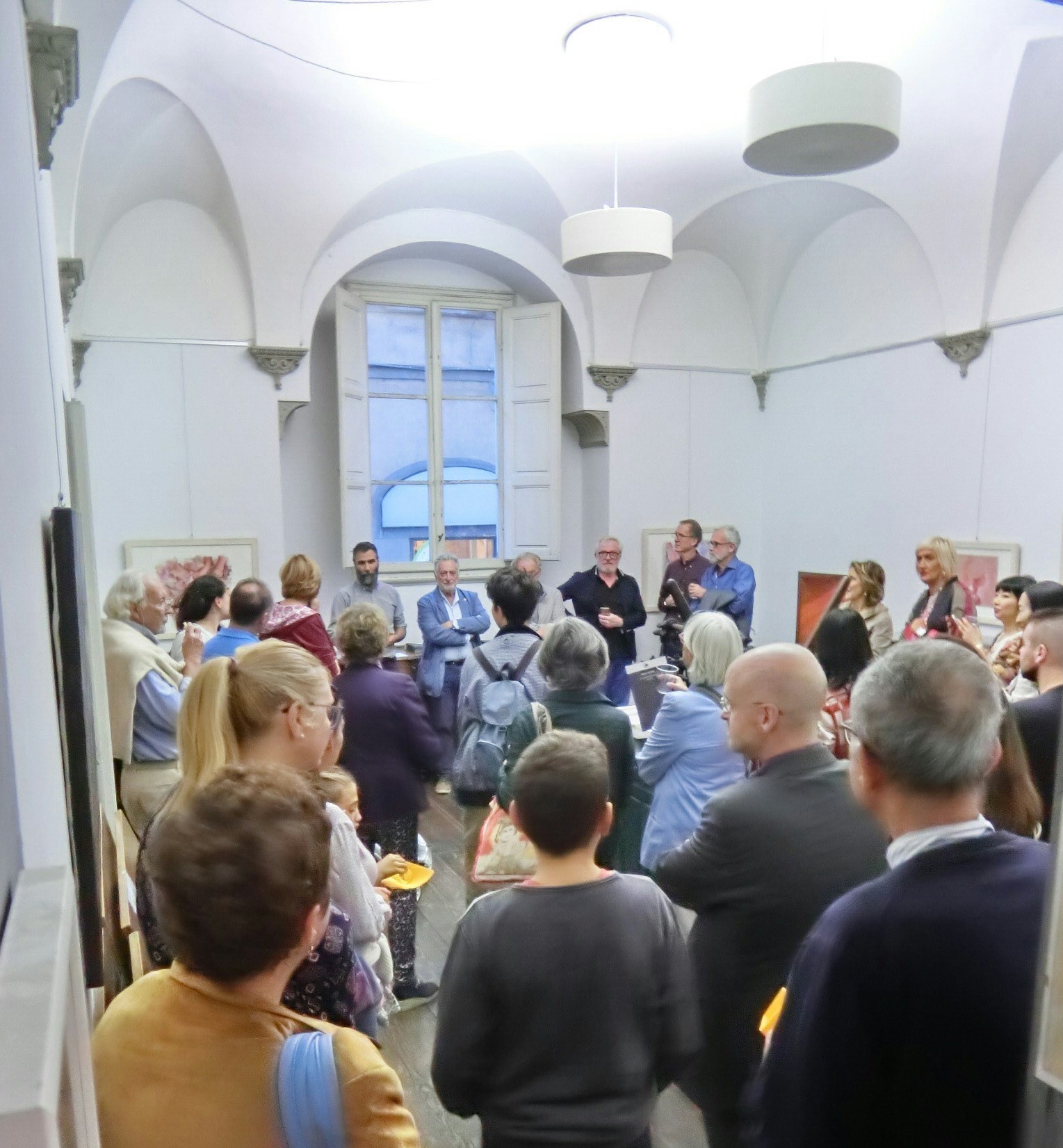 At the exhibition's opening in Florence.
Article by Science Communicator at the Office of Public Relations