1. Location
The south area of the Tsukuba Campus (Nearest bus stop( Tsukuba Daigaku Nishi

)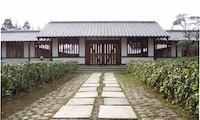 2. Accommodation Capacity
About 70 people
3. Facility outline
Kambara Hall is an on-campus memorial hall dedicated to the founding of the university. This unique building has Zen rooms, study rooms, and Japanese-style rooms connected by a corridor and surrounding an inner garden.
4. Users
Students, staff and faculty members of the University of Tsukuba
Participants of the University of Tsukuba training program
Individuals approved by the university vice president in charge.
5. Available equipment
Japanese tea set, flower vases, portable black boards, sutra desks, and tables
6. Reservation
Reservations can be made two months in advance. The request form to use the facility should be submitted 10 days before the scheduled event to the Division of Student Welfare, Department of Student Affairs, University of Tsukuba (TEL: +81.29.853.2250)
7. Fee
Utilization charge for external users is 240 yen per hour.
8. Office hours
The facility is open on weekdays except for August 12, 13 and New Year's holidays, from 9:00-12:15 and 13:15-17:00